With the highly anticipated release of Succession series 4, Sunday 26th March, we discovered British family feuds are not too dissimilar to those that feature prominently within the HBO blockbuster after asking 2,000 adults to reveal how they really feel about familial relationships.  
Our research reveals that UK families are just as complicated and dysfunctional as the Roy clan. It won't surprise you, but some Brits, to borrow a phrase from Logan Roy, "go full fu**ing beast!" when it comes to family relationships. 
---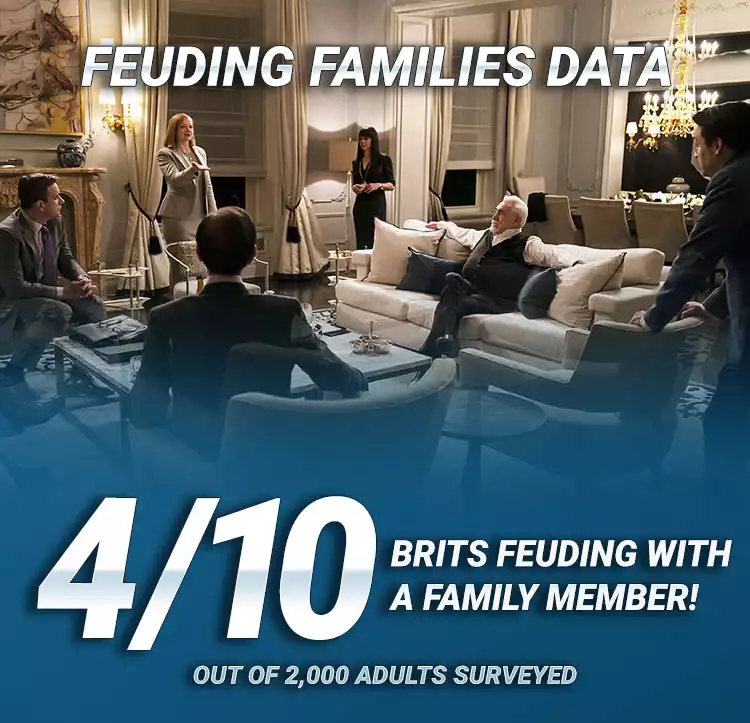 ---
Four In 10 Brits At War!
Four in ten Brits (44%) are currently 'at war' with a member of their family, with one in three (35%) not having spoken to them for over three years.  
Remarkably, 88% of those polled admitted they believed the old adage 'you can choose your friends, but you can't choose your family', yikes.  
Top Reasons For Feuding
Very much like the Roy dynasty, selfishness (28%), life choices (26%), relationship issues (21%) and parenting differences (14%) were uncovered as the most common reasons for the skirmishes, while issues with children (14%), not pulling their weight in the family (14%) and jealousy (14%) have also left many families giving each other cold shoulder.  
One in six (12%) say that the other person being jealous of them and not liking their partner (12%) caused the rift, while a tenth (10%) are owed money.  
Like cousin Greg, who considers suing GreenPeace after discovering his grandfather is going to give his inheritance to the charity, a tenth of Brits (9%) have fallen out over the distribution of inheritance, with a further one in ten (9%) putting it down to political opinions.   
---
---
Age And Location
Gen Z's are the most likely to be caught in a dispute (52%) - compared to over 60s (30%) - with life choices (35%), selfishness (28%) and relationship issues (26%) the main reasons for the cross words.  
London is the capital of the feuding families (59%), followed by Norwich (55%), Nottingham (55%) and Liverpool (52%).  
---
---
Succession's Roy Family Comparison
A spokesman for ICE 36 said: "This research shows that we may have more in common with the Roy family than we would like to believe." 
Four in ten (36%) Brits say they regularly have awkward family get-togethers where they do their best to avoid relatives in order to keep the peace - family therapy session at Connor's ranch anyone? -  and a third (35%) simply don't go to family events anymore because they don't want to face the person. 
One in five (18%) get frustrated when confronted with the other person, while a tenth (11%) feel angry.  
A tenth (10%) admit to getting annoyed, with one in ten (10%) being shocked at the audacity of the other person.  
A quarter (27%) say that the argument has changed their relationship with the wider family.  
A third (30%) don't share anything with their family anymore and admit that they don't talk to them as much as they did (30%).  
One in four (25%) struggle to trust their family because they took the other person's side, while 23% have completely cut contact and don't talk to them at all.  
A fifth (20%) don't get invited to family events now.
---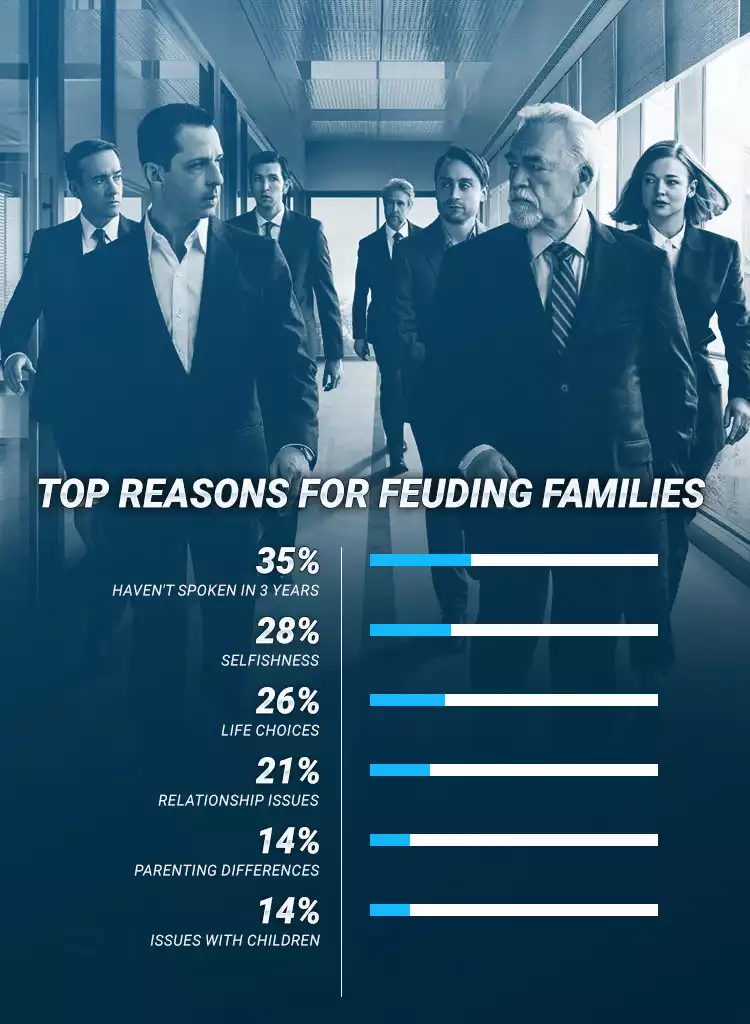 ---
Over 60s are most likely to hold a grudge, one in three (29%) have been locked in an argument for over 10 years.  
When it comes to who is to blame, a half (52%) believe the other person started the argument with a sixth (16%) putting the falling out down to another member of the family. A tenth (12%) take responsibility for the disagreement and say they are to blame.  
One in three (32%) don't think they will ever make up with the other person, while four in ten (44%) are hopeful they will resolve their issues.  
35% say they will eventually take the first step in reconciling, while a quarter (24%) think the other person will make the first move in repairing the rift. 
A tenth (12%) admit they can't remember why they first started arguing, while four in ten (38%) can only remember some of it.
---
---
T

op Ten Reasons

For

Feuding Families
Selfishness

28%

Life choices

26%

 

Relationship issues

21%

Parenting differences

14%

Issues with children

14%

Not pulling their weight in the family

14%

Jealousy

14%

Jealous of the other person

12%

Don't

like a partner

12%

 

Owing money

10%

 
---
Explore ICE36
ICE36 Casino is a favourite amongst those looking to play the biggest selection of online slot games and live tables.
Choose from over 3,000 online slots, live roulette games, blackjack, scratch cards, video poker and more.
Discover one of the coolest gambling experiences.
Be Cool, Be Calm, Be Collected, Be ICE36