Gem Rocks Game Description
Yggdrasil's Gem Rocks slot game is a gem-themed slot game featuring a bedrock-like game area setting with beautiful gems as the game's symbols. It sports a 6 reel by 4 row video slot layout and 8 regular paying symbols.
Released in February 2018, the Gem Rocks slot machine has definitely held its own through the years with its cascading mechanic and up to 4096 possible ways to win. With a unique design, fun features, an RTP of 96.20% and a low volatility, the game can easily be enjoyed by casual slot players that are just in it for the fun of it. If you add consecutive wins that can add a cluster of 4x4 symbols with a guaranteed win on the reels, the Gem Rocks slot game sure is a gem indeed.
How to Play Gem Rocks Slot Online
Playing Yggdrasil's Gem Rocks online slot game is as easy as any slot game. After selecting your bets, you can then press the Spin button to start spinning the reels and start the game. You can win lines by making matches of similar symbols on the reels from the leftmost reel. Gem Rocks, however, has some features that make playing it a real treat.
The game features a cascading mechanic wherein you can see new symbols drop down from above the game area to form new winning lines: drop down wins. Winning symbols disappear from the board, leaving room for new symbols to drop down. These new symbols continue to drop down as long as the player can keep making new winning combinations. This feature is plates with the same ways and bet as the activating spin.
Another feature of the game is its Gem Rock Feature that can be activated after landing 2, 5, and 9 consecutive drop down wins. The player is then awarded a single Monster Rock that will land on the reels and is made up of identical symbols. The game's Gem Rock feature guarantees a win. The sizes of the Monster Rocks are determined by how many consecutive wins can be landed by the player.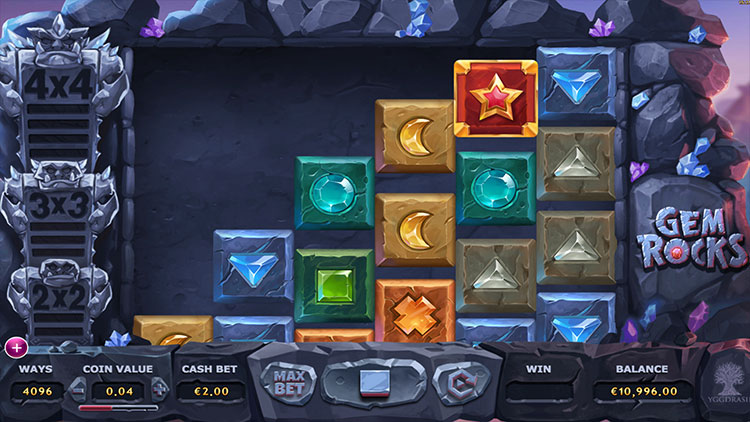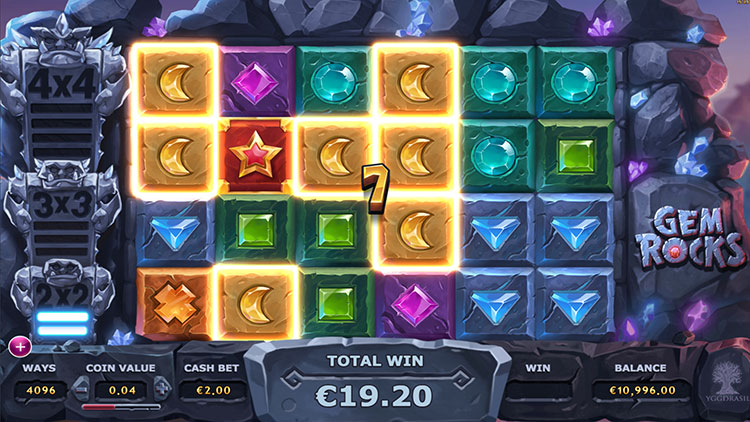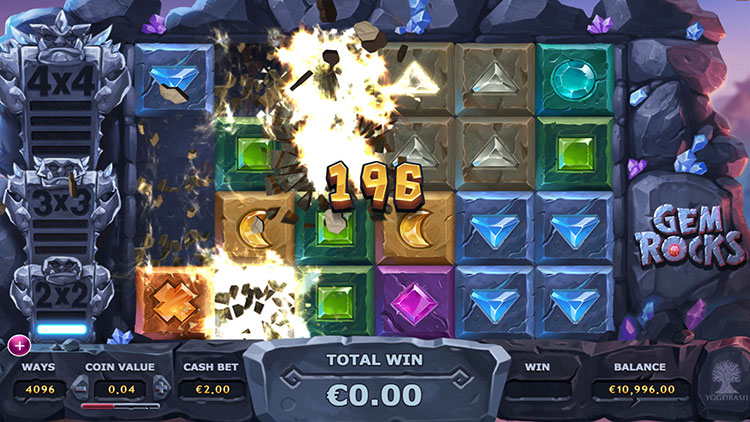 Meet the Gem Rocks Symbols
Yggdrasil's Gem Rocks online slot game features 8 different-shaped gems set in different types of stone as the game's symbols. Among these symbols is a star-shaped gem set in red stone with a gold frame. This is easily the fanciest symbol in the game as this is the highest paying one. As mentioned before, the game also has Monster Rocks in its Gem Rock feature which can range from a 2x2 Monster Rock to a 4x4 Monster Rock depending on the number of consecutive wins made.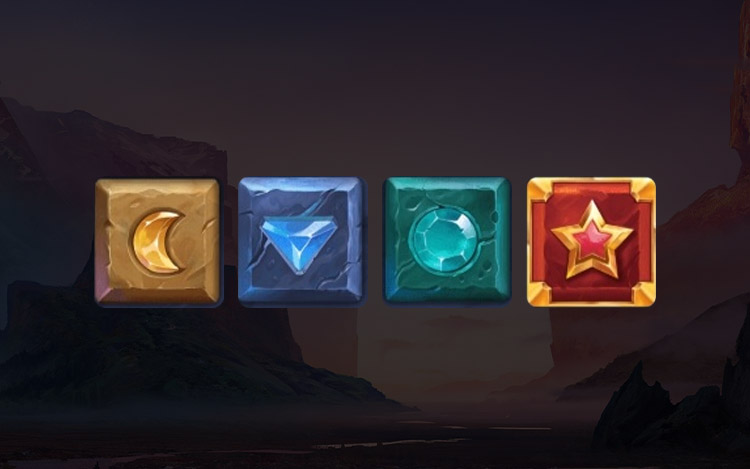 Gem Rocks Slot Game FAQ
What is the maximum bet for Gem Rocks?
The maximum bet you can stake in Gem Rocks is 50.
What is the minimum bet for Gem Rocks?
You can play this game for a minimum bet of 0.10.
Can I play Gem Rocks on mobile?
Yes, Gem Rocks is playable on mobile devices and can be loaded on any device.
What is the RTP of Gem Rocks?
The Gem Rocks game has an RTP of 96.20%.
What is the biggest potential win for Gem Rocks?
You can win up to 9217x your bet whilst playing Gem Rocks.
Gem Rocks Slot Game on ICE36 Casino
You can play Yggdrasil's Gem Rocks slot online at ICE36 Casino, one of the best online casino and gambling sites. The people at ICE36 have spent a long time at building and considering what is needed to give players like you the best online casino experience out there! With online slots, online roulettes, and online blackjack, you are sure to find a casino game that you will enjoy when you visit the ICE36 website!
Come and play Gem Rocks at ICE36 and get a chance to experience its 4096 paylines and win up to 9217x your stake!