Welcome to today's Immortal Romance slot machine review. The Immortal Romance slot machine has images of vampires, werewolves, and attractive high schoolers. Join us as we explore the supernatural in our Immortal Romance online slot review to learn more about this game that was influenced by the YA urban fantasy explosion in the late 2000s.
Immortal Romance Slot Details and Technical Features
The Immortal Romance slot UK,  a vampire romance game, is the creation of popular game creator Games Global. For those who enjoy dark magic, the supernatural, and intrigue, the Immortal Romance slot machine is ideal. The Immortal Romance online slot is more than just a  game because of its captivating soundtrack and excellent graphics.
In the Immortal Romance slot machine there are four distinct bonus rounds, each with a special function, and matching three or more wild symbols will also let you enter the ethereal Chamber of Spins! Who knows what you'll learn when you play the Immortal Romance slot game, which features four enigmatically attractive characters to get to know.
The Immortal Romance casino slot is a simple game to play and only requires a few clicks to get started. Choosing your stake amount is the first step. (Make sure it's cash, not the wooden variety!) Your stake on the Immortal Romance slot machine depends on how many coins (1–10) you choose to bet per spin. Each coin has a different value depending on variables like the currency being utilised and where you play the Immortal Romance slot machine.
The Immortal Romance online slot has a strong narrative component, and each time the reels spin, the stories of the four major characters—Sarah, Michael, Troy, and Amber—are revealed. Pay close attention to these characters because they each have an incredible bonus round to offer you; but more on this later.
Game Symbols 
The Immortal Romance slot game includes a variety of gothic symbols and characters, all fantastically rendered in high-quality graphics. Let's take a closer look:
Scatter: The scatter symbol looks like a golden lion head and awards players with 300-60,000x the stake amount. Collecting 3 or more scatter symbols in any reel position within a single spin will trigger the Chamber of Spins bonus feature
Immortal Romance Logo: Awards 1000-15,000x your wager. The logo symbol also acts as the game's wild symbol and can be used to help you land additional winning combinations.
Amber: Amber rocks are great tan has long dark hair and is surrounded by a yellow aura. She awards 200-3,500 your wager.
Troy: Troy has fair skin with dark hair and features a blue aura. He awards 200-4,000x your wager.
Michael: Michael has blond hair and stands in an orange aura. He awards 300-4,500x your wager.
Sarah: Sarah is adorned with dark hair, a red dress, and a green aura. She awards 300-5,000x your wager.
Mansion: The mansion awards 150-3,000x your wager.
Candle and Books: This symbol awards 150-2,500x your wager.
Ace and King: Both award between 100-1,500x your wager.
Queen and Jack: Both award between 70-1,250x your wager.
10 and 9: Both award 50-1,000x your wager.
RTP
With a generous RTP of 96.86%, players of all skill levels can give the alluring Immortal Romance slot machine a spin or two.
Immortal Romance Slot Bonus Features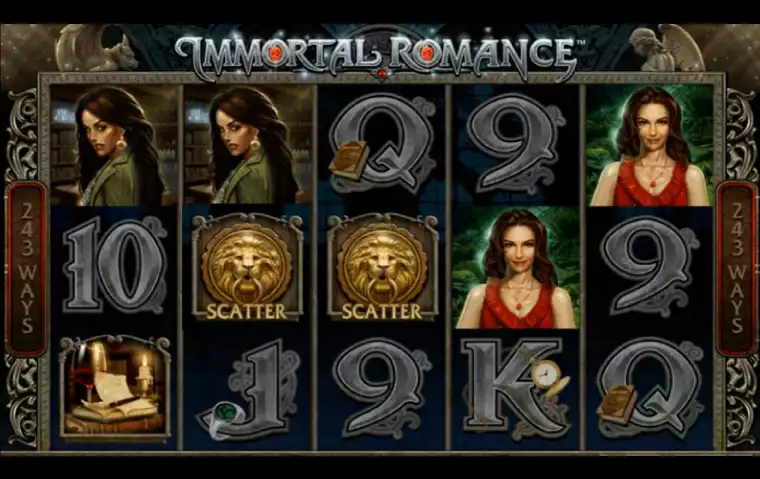 When you play the Immortal Romance slot, you better buckle up for a wealth of slot bonuses. Let's take a closer look:
The Chamber of Spins
By gathering three or more of the scatter symbols, you can start the Chamber of Spins feature. A new character is unlocked each time a player uses this feature.
The bonuses given to each character are as follows:
Amber: Provides a multiplier of 5x and 10 free spins.
Troy: Includes The vampire bat feature and awards 15 free spins.
Michael: 20 free spins are awarded when Michael activates the rolling reels feature.
Sarah: The wild vine feature is activated and players receive 25 free spins.
Vampire Bat Feature
The bonus round for Troy makes use of the vampire bat element. Vampire bats will drop onto the reels after each win you make during the free spins, awarding up to a 6x multiplier.
Rolling Reels Feature
The Michaels bonus round uses the rolling reels function, which enables consecutive winnings that can increase your stake by up to 5 times.
Wild Vine Feature
In Sarah's bonus round, the wild vine feature is employed to transform symbols into wild ones in order to boost the chances of bigger payouts and better combinations.
Player Achievements
Player accomplishments are available on the Immortal Romance slot machine, allowing players to advance through several levels as they play, all the way up to gold tier. By successfully completing a range of possible victory options for each symbol, players may obtain rewards like symbol achievements.
Immortal Romance Slot on ICE36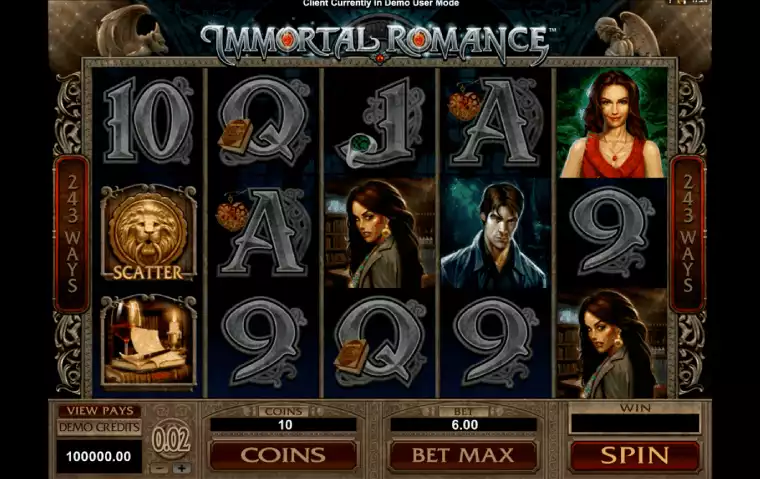 If you've enjoyed our Immortal Romance slot review and want to head back to high school to give this game a try, then sign up and play today at ICE36.