---
This month, we sat down with Celebrity Big Brother contestant Chantelle Houghton. Chantelle entered the Celebrity Big Brother house in 2006 as a non-celeb and had to convince her fellow housemates that she was an international pop star. Not only did she succeed, but she won the show with 56.4% of the final vote.  
In this candid interview, Chantelle discusses the iconic series returning to our screens this autumn and her experience in the BB house. 
---
---
Are you excited about the show returning? 
I can't wait for the new series of Big Brother and for the show to come back! Obviously, I was part of it, but before I went into the house, I used to watch every series – it was such a big part of the summer.  
I'm really excited to see what changes, if any, the producers are going to make to the show. I can't wait to see the new presenters.  
I really hope that they find the right contestants to take part in the new series. The contestants are the reason we all love watching the programme, and there are so many reality TV shows out there these days where the audience knows that people are going on them just to become famous. I feel like some of these people are very calculated, and as a viewer it isn't nice to watch these people and feel like they are manipulating the situation they've found themselves in for their own benefit. It just doesn't feel authentic, which is what I think is the essence of reality TV. We want to see honesty and genuine relationships, so it's really important to find the right people that aren't looking to go on there and land a load of brand deals afterwards.  
Let's go back to basics. Let's get back to the heart of what made the show must-see TV with ordinary people in an extraordinary situation.  
Could you see yourself playing a part in the new series? 
I would absolutely love to be involved in the new series. That is a chapter of my life that I would be more than happy to reopen because Big Brother gave me the life that I have today – I only have positive memories and experiences from being part of it. I'll go on Big Brother as often as they want me!  
I loved both my experiences on BB. Its three to four weeks of fun. It's a brilliant experience and I would do it in a heartbeat all over again.  
What advice would you give any of the new housemates? 
My advice to anyone that is taking part in the new series of the show is: be yourself. Don't go into the house with an idea of who you want to be or by putting on an act. Go in there without any kind of expectation around what may happen when you leave the house and enjoy every single second of your experience in there.  
Have the right motivation to want to be part of the show. Don't go in looking for fame – go in and be the person that you are in your normal life.  
What will come, will come following the show. There are very few contestants that have gone onto BB and sustained a showbiz or celebrity career once they've left the house. Brian Dowling, Josie Gibson, Allison Hammond – not everybody comes out and has those amazing careers. Go in with low expectations for what happens afterwards and enjoy the experience.  
Why do you think there is such huge excitement for Big Brother returning to our television screens this year with ITV as part pf a major reboot? 
Big Brother is such a great format and people love watching other people. I think because we can watch the contestants in a house, cut-off from the outside world interacting with each other… there's so much to be said about human relationships and how we behave in each other's company.  
As a viewer, we love the drama, the friendships that are formed, but fundamentally, I think that most people like to be a little bit nosy too! I think the basic appeal of watching people living in a house together and seeing how that dynamic plays out is fascinating for the viewer.  
I also think that because there has been a bit of a break from the show, people are curious to see what the new series will be like and how it compares to previous editions. Big Brother is such a brilliant concept. I think the show is amazing.  
---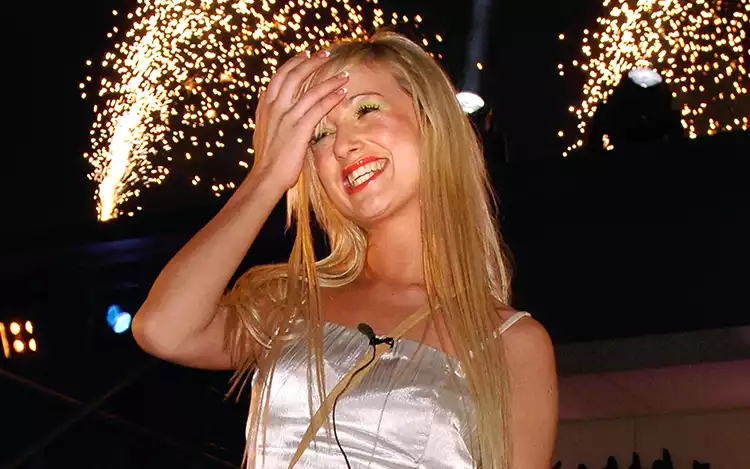 Chantelle winning Big Brother back in 2007
---
There are so many reality shows available for audiences to watch these days, but Big Brother was the original. What makes the show so special? 
I think people love the show because it isn't a competition. Of course, you can win like I did, but it isn't like you're competing to be anything other than yourself in the Big Brother house.  
If you look at a show like Love Island, the incentive is for two people to come together and become the winning couple – everyone wants to be the couple that wins and sometimes I think the audience can see through some of the relationships. Then you have Dancing on Ice and Strictly, and it's always the best dancer that wins the competition. In Big Brother, there isn't really a thing that the housemates can be the best at.  
When you think about all of these reality shows, Big Brother was the OG and what made the show brilliant, especially in those early series, was that it was a proper social experiment featuring normal people. I think reality shows these days, in the social media age, are a lot less authentic.  
When you were in the house, the media landscape was very different. Big Brother was such a huge show and tabloid culture was a massive driving force behind that. Would you prefer to be a contestant now, where there is not as much attention on the show, but in an age where trolls can contact people and say very hurtful things, or when you took part?
If I had to choose to take part in Big Brother now or when I was in the show in 2006, I would definitely pick my era. I think it would have been easier to deal with everything that came my way appearing on the show when I did. I also feel like the show was truly authentic back then, particularly when compared to reality shows at the moment.  
I feel like the people that go onto reality television are so clued up now. The era that I participated in the show was a little bit purer so to speak. I don't think that if I went into the house as a 22-year-old now I would have the same experience as I did then. I loved my experience on the show - I wouldn't want to swap it for anything. I think it would be very, very different (if I went into the house now).  
You left the show as a star after winning Celeb BB. Were you prepared for the mania that greeted you after leaving the house?
Being honest, I didn't have a clue what was going to happen after I left the house. I was amazed to be involved in the show – I certainly didn't think that I was going to win it.  
After I came out of there, I just went with the flow and allowed myself to be swept up by everything that followed. It was such an amazing ride and I loved every moment of it. I never ever thought that the fame would last forever, so I made sure that I really made the most of every single moment and the opportunity that came my way after being on the show. I enjoyed everything about it.  
I definitely wasn't ready for what was going to happen. I have to say that I was really well looked after by the producers after leaving the show – they were always checking in on me to see if everything was OK. I'll always be grateful for my Big Brother experience.  
---
Explore ICE36
ICE36 Casino is a favourite amongst those looking to play the biggest selection of
online slot games
and live tables.
Choose from over 3,000 online slots,
live roulette games
, blackjack, scratch cards, video poker and more.
Discover one of the coolest gambling experiences.
Be Cool, Be Calm, Be Collected, Be ICE36