Sweet Bonanza Slot Machine Game Review and Online Demo
Introduction
Time for that sugar rush that gets you up to 21,100X your total stake. This candy-themed game was developed by Pragmatic Play. Sweet Bonanza slot game takes place in a 6 reel, 5 rows, all ways slot. The game developers used vivid colours and eye-catching symbols, which combined with epic multipliers, bring you closer with an even epic win.
Table of Contents
1. Game Description
2. Game Graphics
3. How to Play Sweet Bonanza Slot Online
4. Game Controls
5. Demo
6. Meet the Symbols
7. Bonuses and Special Features
8. Sweet Bonanza Game Reviews
9. Pros and Cons
10. Video
11. Game FAQ
12. Play This Game at ICE36 Casino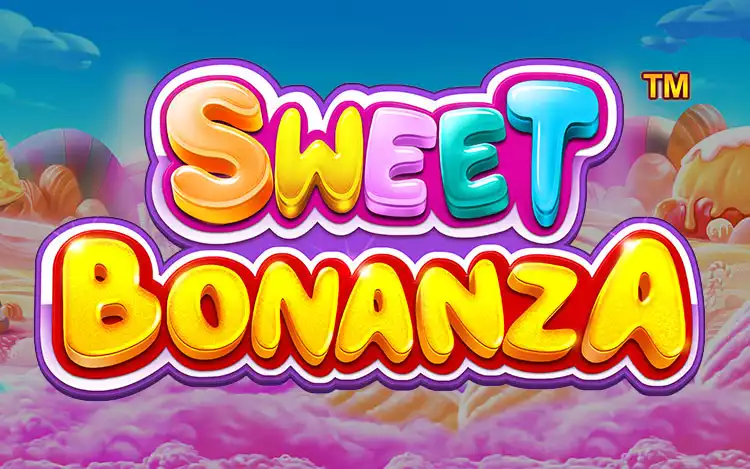 How to Play Sweet Bonanza Slot Online
It's possible to jump into the action with bets ranging from 0.20 to 2 each spin. In order to modify your wager, click the plus or minus signs located next to the spin button. Ante Bet is available in the Sweet Bonanza slot game. After selecting a wager, the game's behaviour will change.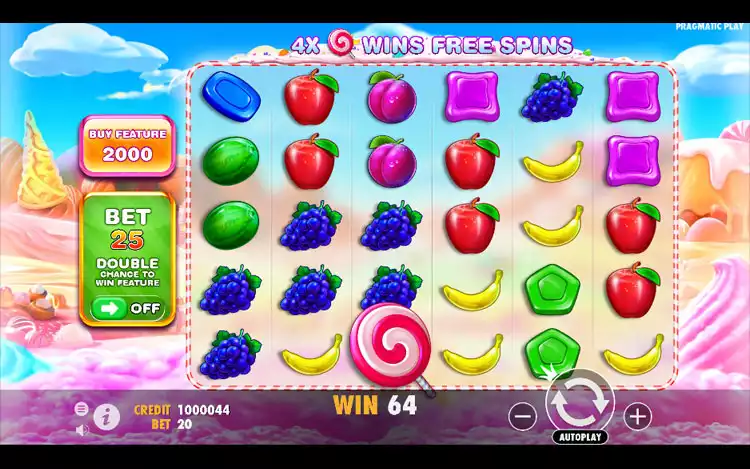 1. Slot machine players can indulge in Sweet Bonanza employing an All Ways gaming engine that features 6 reels and 5 rows.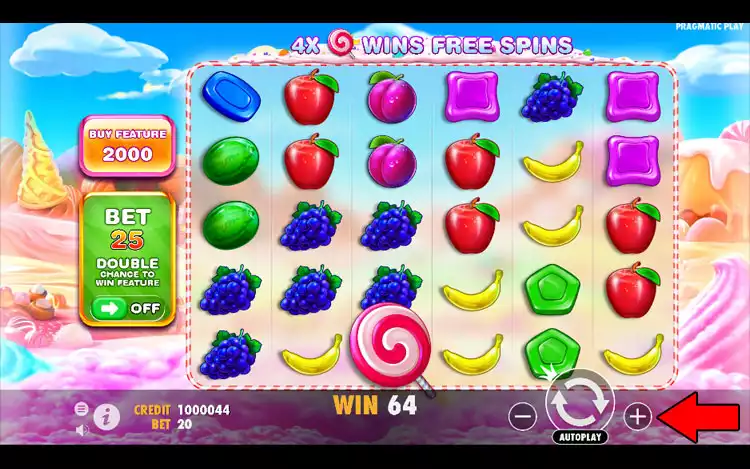 2. The method used to determine winners is a bit peculiar. For a winning spin, you need to get 8 or more of the same symbol on an active payline. They don't need to form clusters, paylines, or even be adjacent to one another on the reels. The reels can be placed wherever.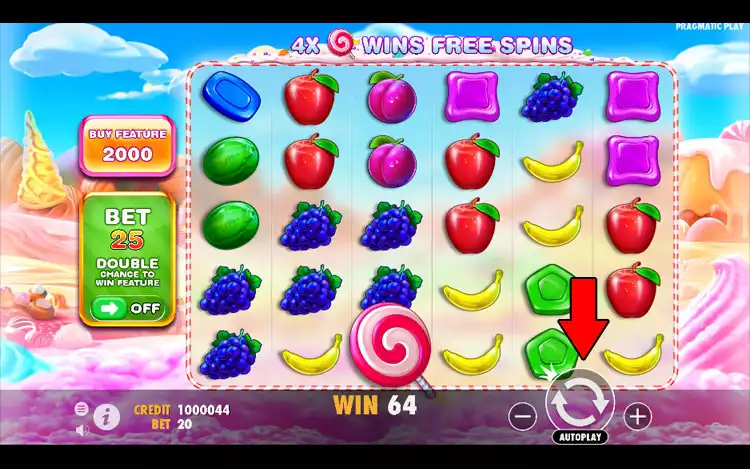 3. Rewards increase in proportion to the number of identical symbols that are entered. On a single spin, you may obtain many winning combinations consisting of different symbols. These are the rules for slot machines that offer payouts in clusters.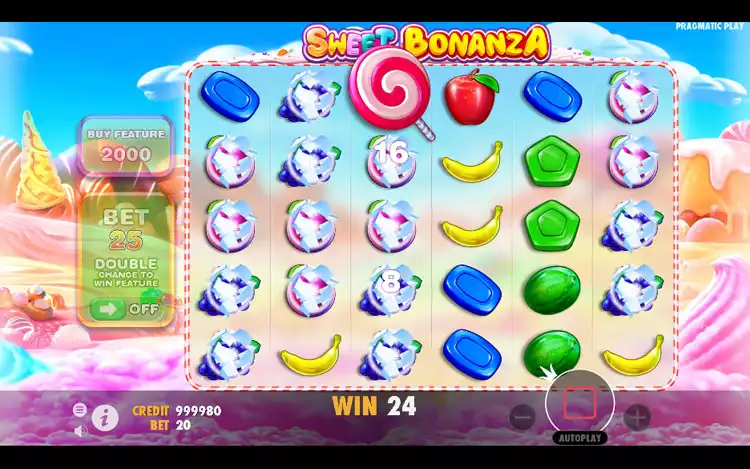 4. The possible bet multiplier values are 20x and 25x. If you select a 20x multiplier, you will gain access to the Free Spins bonus round by wagering 100x your stake. If you select a 25x multiplier, your purchase option is nullified, but your odds of winning Free Spins are multiplied by two.
Game Controls
The controls may not appear as a part of the sugar-sweet explosion design of the reels however, it is built for function. All of the traditional buttons can be found on familiar spots at the lower part of the reels. It looks like an arcade panel that has labels which makes it easy even for beginners and a breeze to understand for long-time players.
Plus Minus - reveals a three selection menu on how to adjust your bet, your coin value and total bet.
Spin Button - starts your game.
Credit and Bet - are displayed in the middle.
Infor Button - reveals the game menu and paytable.
Burger Button - System settings to cusotmise your game. It offers toggle switches for quick spin and battery saver mode.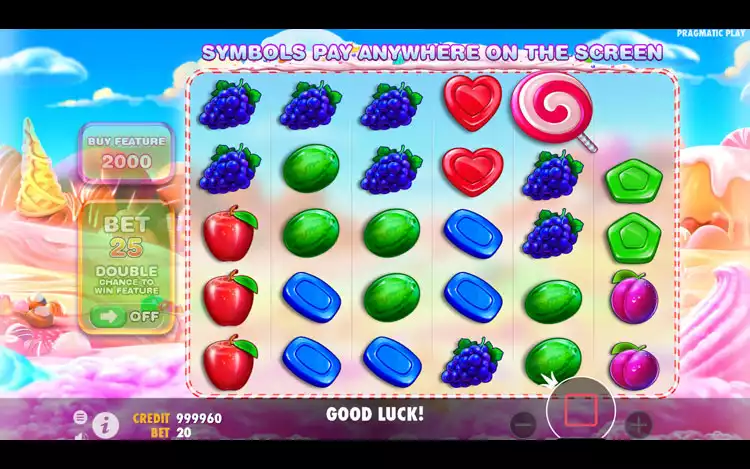 Recommended Games
Game Demo
You can play Sweet Bonanza on mobile and tablet devices, and Pragmatic Play ensures that their games always look excellent regardless of the platform or handheld device that they are being played on. We strongly suggest that you begin by testing out the game in its sample mode to determine whether or not you will enjoy playing it. This will offer you a taste of the excitement of the game without requiring you to spend any actual money just yet. You have nothing to lose by giving it a couple tries.
*Demo games are only available to registered players with fully verified accounts. Players with fully verified accounts needs to login to play the demo.
Meet the Sweet Bonanza Symbols
You are cordially welcomed to enter this strange Willy Wonka-esque universe, which is entirely constructed out of sweets such as ice cream, cakes, and candies. On the reels, you will see a variety of gem-shaped candy and fruit symbols, some of which are apples, plums, melons, grapes, and bananas. This will cause a burst of colour to appear on the screen. The bonbons that are green, blue, and purple in colour have a higher value. If you are lucky enough to land 12 to 30 of the candy in the shape of a heart anywhere on the reels at the same time, you will receive a payout that is equal to 40 times your original wager.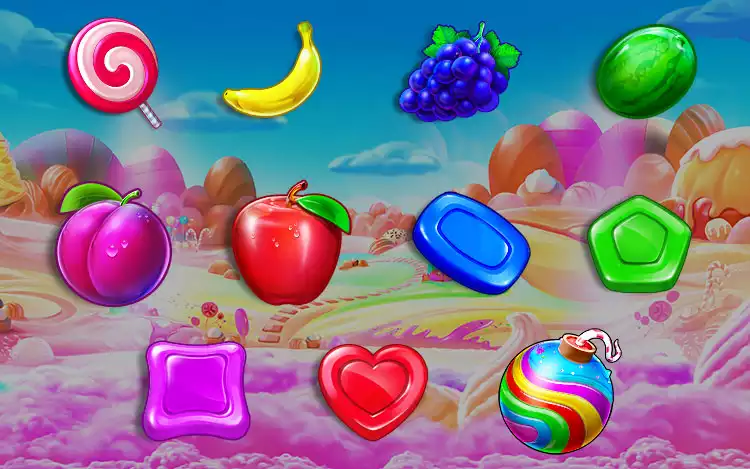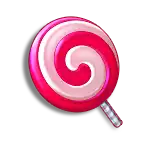 Lollipop Scatter
Value: 100x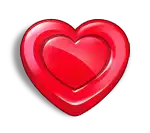 Red Heart
Value: 50x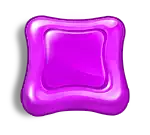 Purple Candy
Value: 25x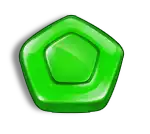 Green Candy
Value: 15x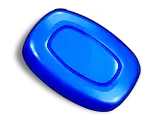 Blue Candy
Value: 12x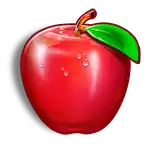 Apple
Value: 10x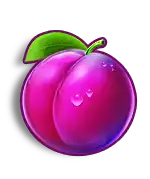 Plum
Value: 8x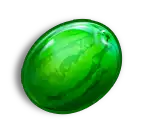 Melon
Value: 5x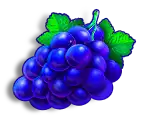 Grapes
Value: 4x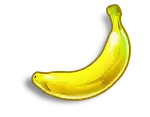 Banana
Value: 2x
Bonuses and Special Features
The Sweet Bonanza video slot machine's most appealing features are its cascading reels and its free games. In the event that you are successful in activating the free spins, keep an eye out for multipliers that can increase your payouts by a factor of up to 100.
Sweet Bonanza Tumble Feature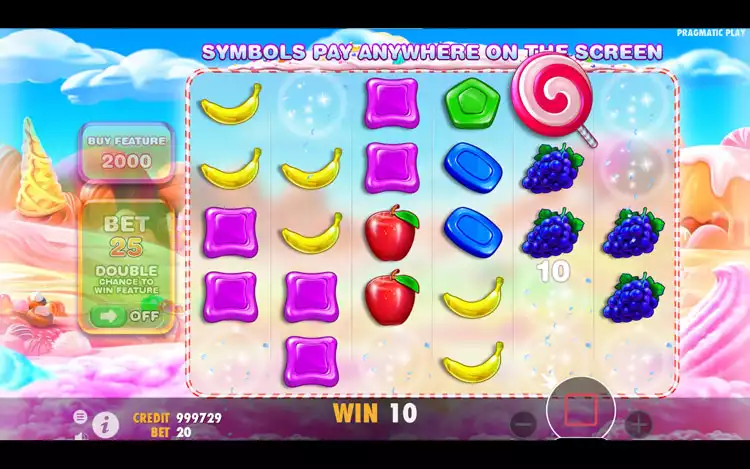 The Tumble feature will become active if you have successfully formed a winning combination. When a strategy is successful, its winning symbols are eliminated from the grid, and new symbols take their place. Repeating the process is done if the outcome of this leads to the creation of a new winning combination. The tumbles continue until there is one in which no new winners are created. After that, they stop.
Sweet Bonanza Free Spins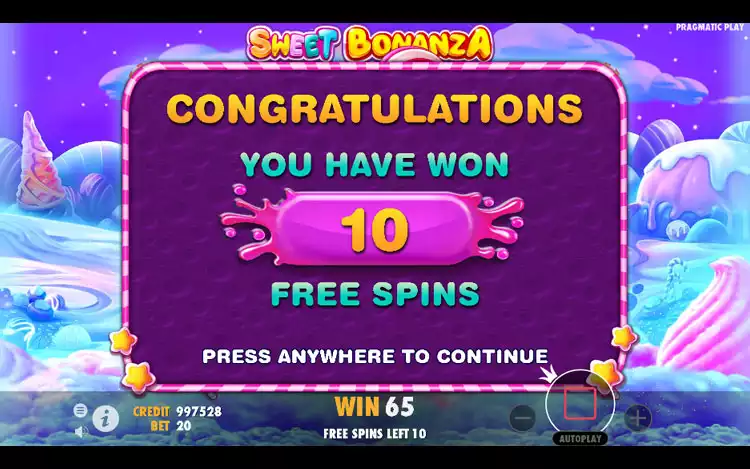 The Sweet Bonanza slot is primarily focused on the Free Spins bonus. To activate it, you must simultaneously land 4, 5, or 6 lollipop scatter symbols; this will award 2, 4, or 80 times your wager and 10 free spins. Whenever three or more scatter symbols appear during the feature, five additional free spins will be added to the total.
The gameplay is identical to that of the standard game, with the addition of random multipliers. Keep your eyes peeled for sugar bombs! They carry multiplier levels ranging from 2x to 100x and will increase your payouts proportionally.
Game Reviews
Sweet Bonanza is a highly popular slot game that has reached many casino gaming sites. There have been many reviews for this game and one of them said that the maximum possible win is enormous considering the betting range. Another review said that the graphics is fun-looking which is great for players who enjoy colourful slots.
Pros and Cons
Some might say the simpler the better, but that might also not be the case every time. So let's take a look at some advantages and disadvantages of Sweet Bonanza.
Pros
21,175x max payout
Modern theme
Great entertainment factor
Highlighted by Free Spins
Katy Perry-like sounds
Demo available
Cons
May require a few spins for beginners to get familiar
Theme may not be for everyone
Game Video
Have a look at this quick video to see the Sweet Bonanza slot machine in action. This acts as an invitation for veteran players, and if you are just starting out, it gives you the opportunity to get some first-hand experience. Enjoy some of the game highlights on this video.
Game FAQ
Here we try to answer the most common questions players have about Sweet Bonanza.
What is the maximum bet for Sweet Bonanza?
The maximum bet is set at 2 per spin. 
What is the minimum bet for Sweet Bonanza?
The minimum bet is set at 0.20 per spin.
Can I play Sweet Bonanza on mobile?
You can play this game on any mobile device.
What is the RTP of Sweet Bonanza?
The game's RTP is set at 95.45%.
What is the biggest potential win for Sweet Bonanza?
The maximum win is 21,100X your stake.
Play This Slot at ICE36 Casino
Sweet Bonanza is available at ICE36. If you are a new player trying slots for the first time then this site is highly recommended. When playing online slots, it is crucial for players to find a website that is well-respected and accredited in the community. Enjoy Sweet Bonanza at ICE36 Casino and take advantage of their large sign-up bonus, quick cash payouts, and MEGA Jackpots.