Rise of Olympus Slot Machine Game Review and Online Demo
Introduction
Join mighty Greek gods in Rise of Olympus slot game. Played on a 5x5 grid, the slot by Play N Go features dropping symbols along with bonus features. The highly volatile slot features cascading wins, multipliers, and a free spins bonus round with a max potential win of 5000x your stake!
Table of Contents
1. Game Description
2. Game Graphics
3. How to Play Rise of Olympus Slot Online
4. Game Controls
5. Demo
6. Meet the Symbols
7. Bonuses and Special Features
8. Rise of Olympus Game Reviews
9. Pros and Cons
10. Video
11. Game FAQ
12. Play This Game at ICE36 Casino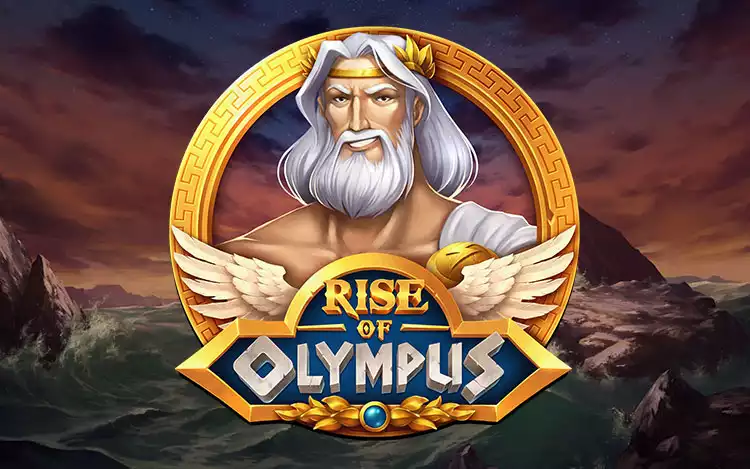 Game Description
Set in Mount Olympus, Rise of Olympus slot features the big three Greek gods; Zeus, Hades, and Poseidon, rulers of the land, the underworld. and the sea. On the reels are their trident, weapons, harps, and more. Rise of Olympus slot online is not only visually stunning, but it is also packed with bonus rounds and features which can deliver you great fortunes.
Game Graphics
Rise of Olympus from Play n Go has a distinct appearance that distinguishes it from other slots with a Greek mythology theme. Instead of being drawn in the classical style, each deity is rendered as a superhero in modern style. The aesthetics of this game are certain to astound players, as they are visually engaging and highly impressive. We adore the game's dynamic look and feel, from the throbbing soundtrack to the ripped Greek gods that rule the reels. Every symbol in the paytable relates directly to the game's motif.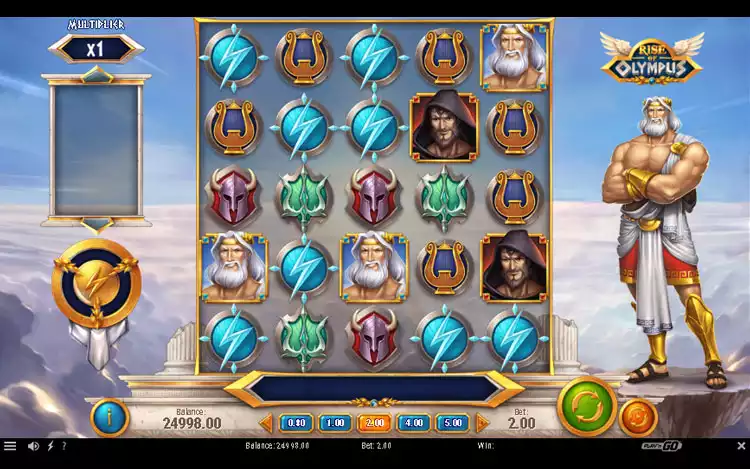 How to Play Rise of Olympus Slot Online
When three or more identical symbols appear in a group, a winning combination occurs. In Rise of Olympus, your objective is to empty the grid completely.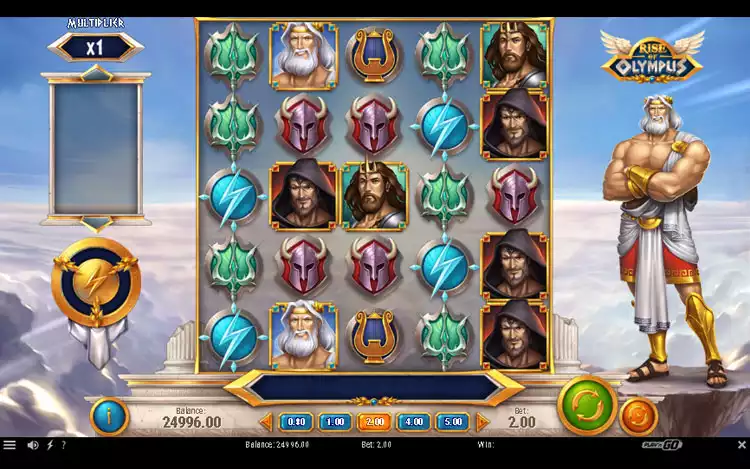 1. In contrast to other games with tumbling reels, new symbols do not appear when winning combinations vanish from the reels.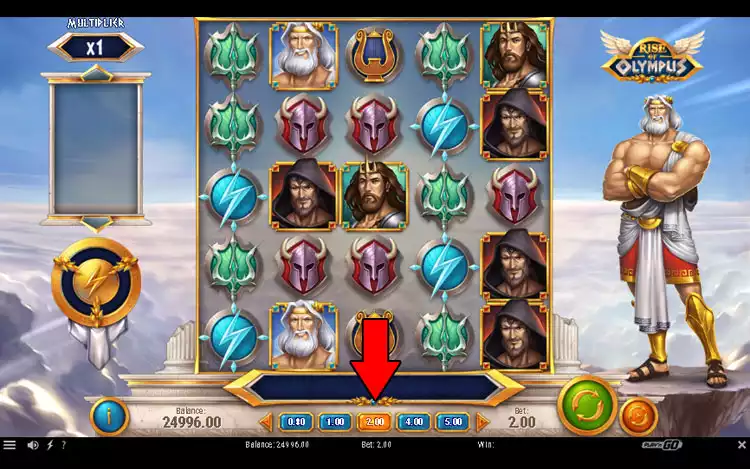 2. If you are able to remove all symbols from the grid during the free spins bonus, you will receive an additional 200 tokens.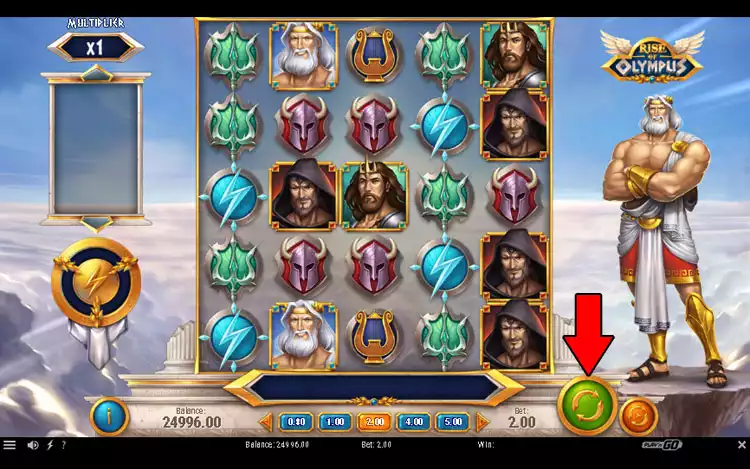 3. You'll observe three different gods to the right of the Rise of Olympus online slot grid: Hades, Poseidon, and Zeus. They each have unique Hand of God abilities that are unpredictably activated during losing spins. Powers may include wilds and symbols that transform or are destroyed. Once a power is activated and exhausted, the deity will transform.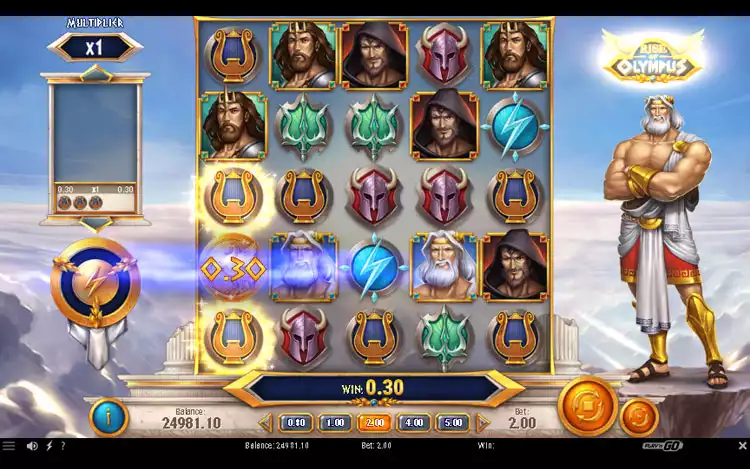 4. Each time a successful combination is formed, the metre to the left of the grid fills up. As you complete the sections of the metre, unleash the wrath of Olympus and witness the gods perform their powers to grant you massive wins.
Game Controls
+/- buttons: are used to adjust the amount that you wager
Spin: can be found on the right to start your game
Speaker: controls the game sounds
Three lines: contains the game information and game rules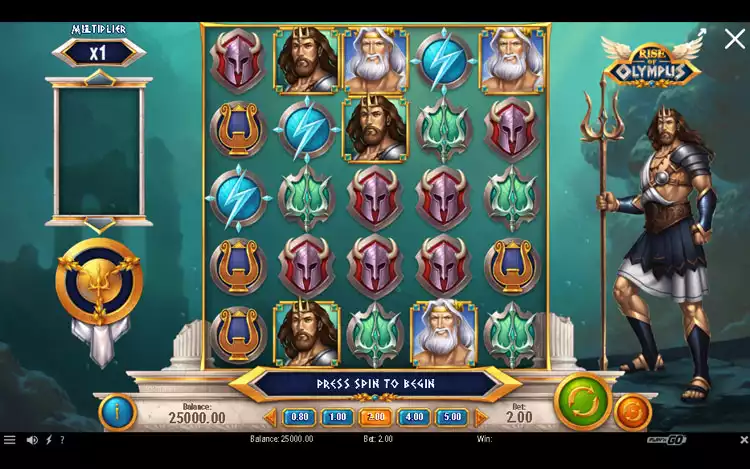 Recommended Games
Game Demo
The Rise of Olympus free demo version can introduce you to the game without any risks of wagering an amount. All you need to do is register to gain an unlimited number of spins. This gives new players a way to experience playing slots without the added bets. If you are a long time player this can give you an idea on how much you can wager in this game. It is the best way to experience the game because it uses the same maths model as the real game.
*Demo games are only available to registered players with fully verified accounts. Players with fully verified accounts needs to login to play the demo.
Meet the Symbols
The game's symbols include bolts, tridents, helmets, and harps, as well as three high-value symbols representing the Greek gods and the game's stars: Hades, Poseidon, and Zeus. However, the most valuable symbol is the Wild, which awards 50 times the wager for five on a payline.
When three or more symbols align vertically or horizontally, a win is created. As previously stated, Rise of Olympus is a cascading slot, which means that symbols fall into place to create winning combinations. When this occurs, the wild symbol will appear in the central position, and the win multiplier will continue to increase with each successive drop. This continues until there are no additional successful combinations, at which point the multiplier resets to x1.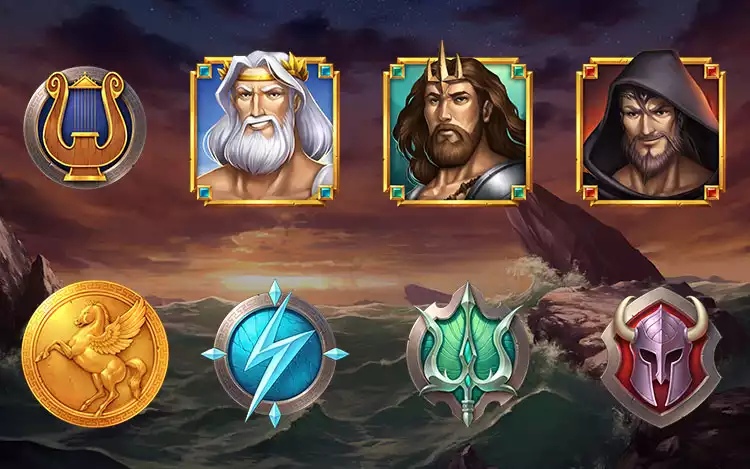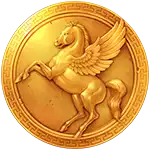 Wild
Value: 50x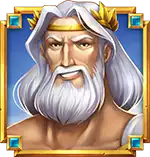 Zeus
Value: 10x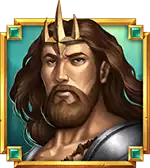 Poseidon
Value: 10x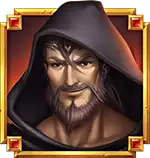 Hades
Value: 10x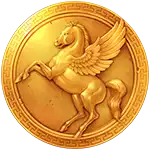 Three Gods
Value: 5x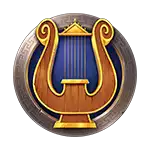 Harp
Value: 3x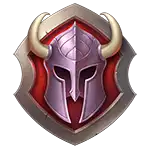 Helmet
Value: 3x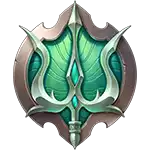 Trident
Value: 2x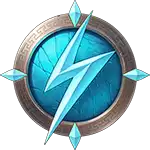 Lightning Bolt
Value: 2x
Bonuses and Special Features
The game is highlighted by the Hand of God and the Wrath of Olympus which will be explained in detail below. The game offers free spins which is what many players enjoy.
Hand of God
Hand of God - activates unpredictably during losing spins. Any of the three Gods may make an appearance, and each possesses unique abilities. Hades transforms one set of symbols into another set of symbols, Poseidon adds up to two wilds, and Zeus destroys two sets of any symbol.
Wrath of Olympus
Wrath of Olympus - is activated when the metre is fully charged, which is accomplished by achieving a 5-of-a-kind triumph with any of the God symbols. The three gods will then take turns bestowing their superpowers upon the grid, increasing the probability of triggering free spins.
Free Spins
The free spins game is activated by removing all symbols from the playing field with the exception of Wilds. As depicted in the image above, players will then be presented with three options, each represented by one of the gods. During the free spins (Hand of God feature), the abilities of the god you select will activate after each losing spin. If you choose Poseidon, for instance, up to two wilds will be added after a losing spin.
Rise of Olympus Game Reviews
The game has been reviewed in many casino gaming sites. One of the reviews said that Play n Go's Rise of Olympus is an outstanding online slot game. The game is highly original in its use of the match-three genre, as well as its additional features and their activation mechanisms. Despite the apparent complexity of this slot machine, it doesn't take long to grasp the game mechanism and understand how all the bonuses function together in a single action-packed slot.
Pros and Cons
This is a game that may have similarities with another popular slot but there are definite pros and cons here that you can look into.
Pros
Features that really add excitement 

Excellent graphics

Engaging gameplay

Free Spins and Multipliers
Cons
Theme has been used in many games

Can start as challenging for newbies
Game Video
Here you can watch a short video of the Rise of Olympus slot machine. If you have not played slots before this is a great way to have an encounter with this slot even before you make your first spin. This video will also give you some of the highlights of the game while in action.
Game FAQ
Here we give answers to the most asked questions about the Rise of Olympus online slot.
What is the maximum bet for Rise of Olympus?
The maximum bet is 40.
What is the minimum bet for Rise of Olympus?
The minimum bet is 0.20.
Can I play Rise of Olympus on mobile?
Yes, you can play this game on mobile.
What is the RTP of Rise of Olympus?
The RTP is 91%.
What is the biggest potential win for Rise of Olympus?
The biggest potential win is 500000.
Play This Game at ICE36 Casino
You can play Rise of Olympus at ICE36 Casino. ICE36's mission is to give players the best possible online slots experience in a safe and reliable setting. When deciding which games to showcase, we take player enjoyment and the likelihood of winning into account. Register today and enjoy a generous welcome bonus and be eligible for future promotions.