Mermaids Million Slot Machine Game Review and Online Demo
Introduction
The Mermaids Millions slot machine has five reels, fifteen paylines, and a maximum bet of seventy-five coins. The game also has scatter and wild symbols, a free spins bonus feature, and a treasure bonus feature in addition to its "under the sea" symbols. The Old King of the Sea is the game's main hero. He speaks for the Wild as well. The mermaid, his daughter, is next in line. She stands in for the scatter in the game. The RTP of the Mermaids Millions game is 96.56%, and its volatility rating is moderate. The game's maximum payoff is 1500 times the stake.
Table of Contents
1. Game Description
2. Game Graphics
3. How to Play Mermaids Millions Slot Online
4. Game Controls
5. Demo
6. Meet the Symbols
7. Bonuses and Special Features
8. Mermaids Millions Game Reviews
9. Pros and Cons
10. Video
11. Game FAQ
12. Play This Game at ICE36 Casino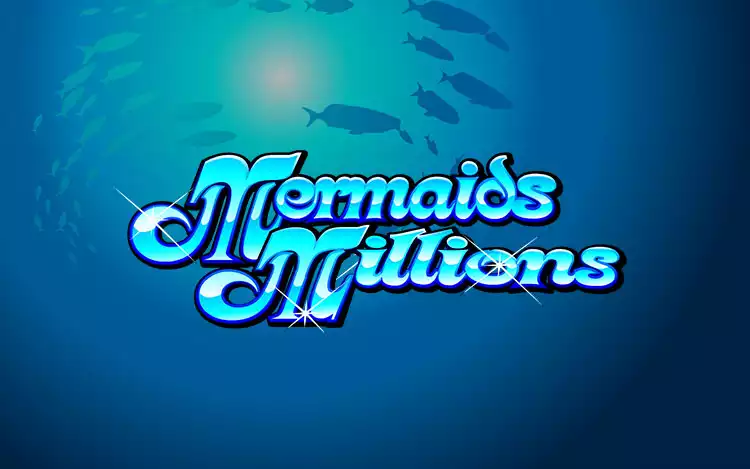 Game Description
The aesthetics of the Mermaids Millions slot machine reveal that it is one of the older games. While outdated, the graphics are not drab. Even though the graphics are not the best, the game nonetheless draws players in with its vibrant colours and upbeat atmosphere. The sound effects imitate the noises of the waves and bubbles. The control buttons and control bar of the game have a 3D design that makes them feel clumsy and metallic. 
Mermaids Millions players can choose a wager every spin between 15 and 150. Many gamers, including both novice and seasoned players, may find that betting range to their liking.
Game Graphics
Although Mermaids Millions was introduced in 2005, it still lives up to its intriguing name. Its symbols are designed in a cartoonish style with a dark blue colour scheme reminiscent of the ocean. This 5-reel, 15-payline slot is located below the water, where strange creatures that are half humans and half fish live. On the reels, you'll see images of Mermaids, Treasure Chests, Pearl-bearing Oysters, King Neptune, Seahorses, and high poker card symbols that are wrapped in sea-themed objects and creatures.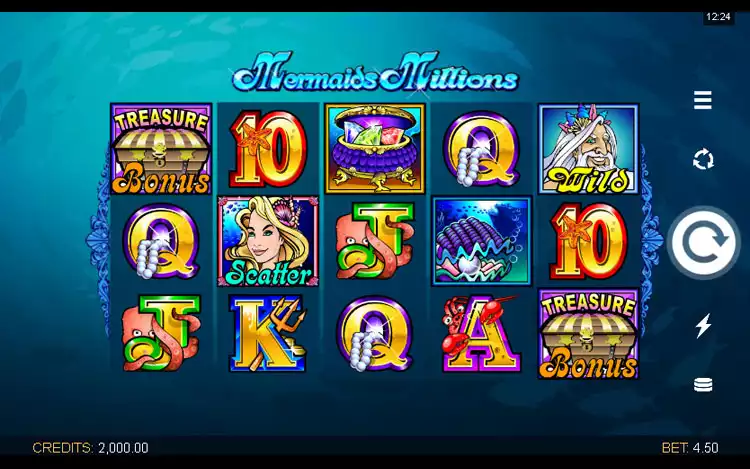 How to Play Mermaids Millions Slot Online
Playing this game is quite simple and you'll definitely get a hang of it in no time.
All you have to do is follow these very simple and basic steps: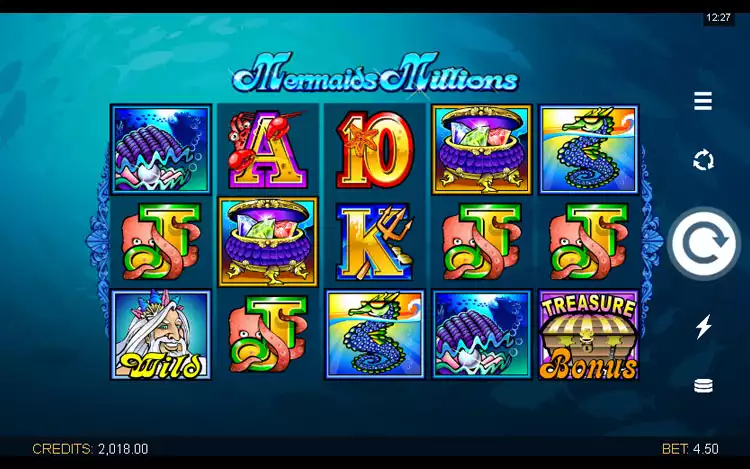 1. To begin, you must select the coin you wish to use. Depending on your mood and how strongly you believe that luck is on your side, you may choose anything between 1 penny and 1 pound.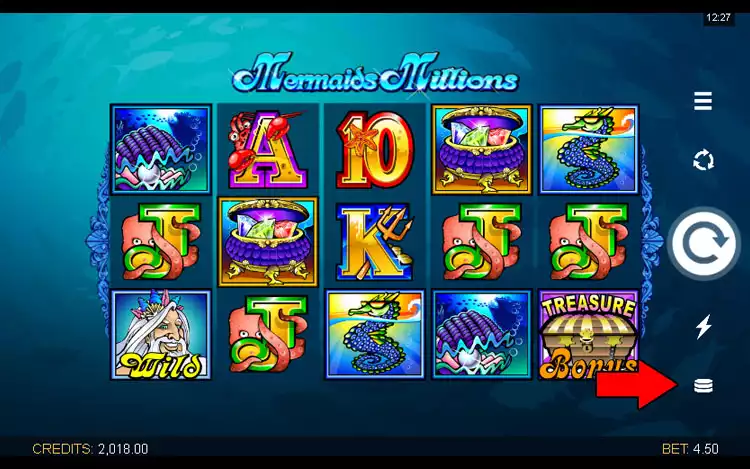 2. As you navigate the player controls, keep an eye out for the "Coins" button. Here, you can choose how many coins you want to bet on each turn.
3. Decide how many lines you want to play now, anywhere from one to a maximum of fifteen. Your total wager will now be shown in the betting box for the subsequent spin of the reels. This wager will be calculated based on your coin value, the number of coins you've chosen, and the number of active lines.
4. You can make further adjustments to these sums until you are happy with your final wager.
Game Controls
Below are the following controls that you can use to play Mermaids Millions:
-/+ Buttons:

You can use these controls to set your bet amount.

Spin Button: This will trigger the reels to spin. Pressing this button will start betting the amount.
Help button: This button is located on the bottom left of the reels. It provides a thorough instruction manual.
Control Bar: This button is located below the reels. The Mermaids Millions slot machine's players may discover all the information they require here.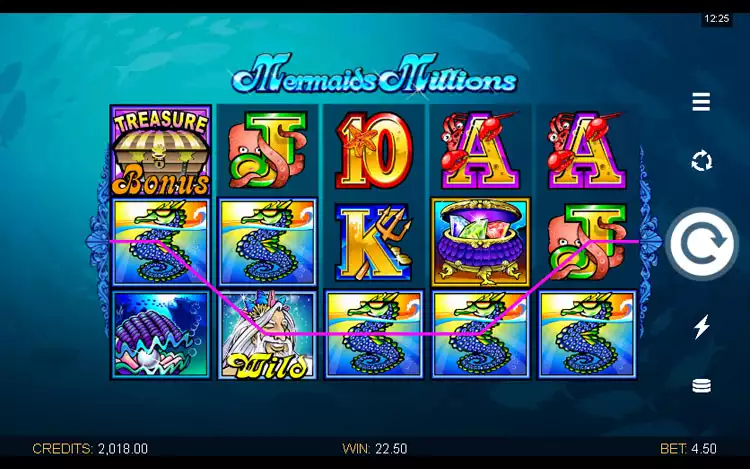 Recommended Games
Game Demo
You are free to play as much as you'd like for no charge as part of our effort to make gaming even more rewarding. Playing an online slots game repeatedly in free play mode can help you master all the intricacies of playing your preferred game over time, whether you're playing for pleasure or maybe intend to play for real money at a later time. You can enjoy playing Mermaids Millions repeatedly without having to worry about money interfering with your enjoyment, which gives you a terrific opportunity to learn every little nuance of gaming.
*Demo games are only available to registered players with fully verified accounts. Players with fully verified accounts needs to login to play the demo.
Meet the Symbols
The lowest paying symbol in the game is the Ace, which is represented by your normal 10-to-Ace card symbols. The more valuable sea life icons include the octopus, oyster shell, and seahorse. A trinket, a trident, and a jug full of gems are also present. With a payoff of X2, X4, or X20 a player's stake for 3, 4, or 5 on a payline, the potful of gems symbol is the most lucrative. 
The game's wild card is the ancient King of the Sea. Except for the scatter, he can take the place of all other symbols on the reels. Players will receive X500 of their wager if they land 5 of these on a payline. 
The scatter symbol for the game is a mermaid, while the bonus symbol is a treasure chest.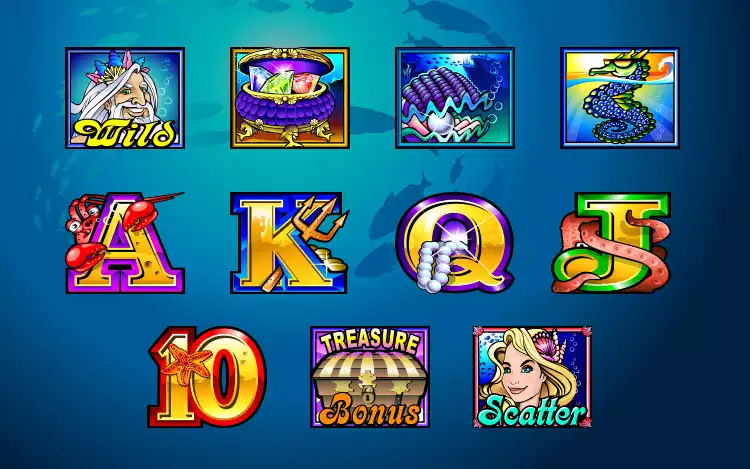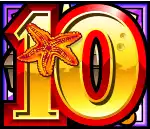 10
Value: 3x stake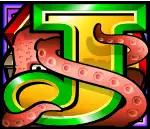 J
Value: 3x stake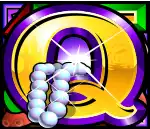 Q
Value: 6.66x stake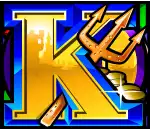 K
Value: 6.66x stake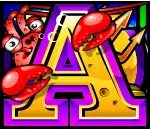 A
Value: 8.33x stake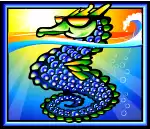 Seahorse
Value: 16.66x stake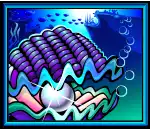 Clam
Value: 33.33x stake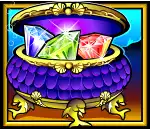 Pot of Gems
Value: 33.33x stake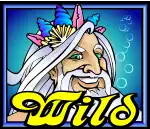 Wild
Value: 500x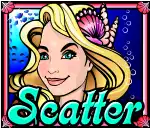 Scatter
Value: 400x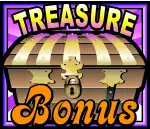 Treasure Bonus
Value: 166.66x
Bonuses and Special Features
The Mermaids Millions Slot has different special features that will make your gameplay more exciting and interesting. The slot includes Free Spins, Treasure Bonus, and more.
Free Spins feature
To activate this feature, land three or more mermaid symbols anywhere on the reels. This feature grants players 10 free spins when it has been activated. All wins in this round will be multiplied by X3. Prior to the free spins feature, players will also receive scatter payouts, and their scatter wins will be multiplied by the credits bet per line. When three or more scatter symbols land during this round once more, this function can also be reactivated.
Treasure Bonus
To activate this function, a treasure chest must appear on an active line. The quantity of chests necessary to activate this feature will also affect how many picks each player receives. That's because, depending on the number of chests that triggered this round, players will be given a series of shells and asked to select between 3 and 5 shells.
Pick Me bonus
The Pick Me bonus has a lot of potential for delivering lost ocean treasure, while the free spins present some respectable winning prospects because of the persistent 3x multiplier.
Mermaid Icon
A Scatter, the Mermaid icon. But if you get three or more of the Mermaid symbols, you'll also get a 10-spin free spin bonus. Every payoff is tripled while you are in the free spins.
Treasure Icon
A bonus symbol is the Treasure icon. It starts a minigame where you can open various boxes to win prizes. You can open more boxes if you hit the bonus with more symbols. During the Free Spins, you can still receive the treasure bonus.
Mermaids Millions Game Reviews
If you keep your expectations in check, you'll find that the Mermaids Millions slot has a lot to offer. The design isn't really up to par with today's ultra-slick slots, as you could expect from such an old game. Even though the gameplay is quite simple, it's nonetheless enjoyable to play. With Pick Me awards and a free spins round where all earnings are double, you can't go wrong. The RTP figures are strong, and the low volatility provides a ton of play. Mermaids Millions may be an oldie, but it still has its pleasures.
Pros and Cons
Here are the pros of playing Mermaids Millions slot that will interest you and the few cons this slot game has that will not change your gaming experience:
Pros
2830x maximum payout

Nostalgic slots theme

Highly entertaining

Generous free spins

Excellent sound effects

Available in demo mode

Low Volatility

RTP rate above average

Great on Mobile
Cons
Low maximum win (1500 x bet)
Game Video
You can learn more about how the entire game operates by watching the attached preview video.
Game FAQ
Here are the usually asked questions about the Game slot that you will be interested in looking at:
What is the maximum bet for Mermaids Millions?
The maximum bet is 150
What is the minimum bet for Mermaids Millions?
The minimum bet is 15
Can I play Mermaids Millions on mobile?
This slot game is available for mobile gaming.
What is the RTP of Mermaids Millions?
RTP of this slot is 96.56%.
What is the biggest potential win for Mermaids Millions?
Biggest potential win for this online slot is 7500 coins.
Play This Game at ICE36 Casino
According to some, playing slots and going for the jackpot is comparable to discovering your own hidden treasure at the bottom of the sea. but not impossible. ICE36 Casino offers Mermaids Millions for play. We have a ton of hidden treasures here at ICE36 Casino.