Joker Troupe Game Description
Joker Troupe slot by Push gaming has an unusual 4x4 grid, 10 paylines, and a portrait orientation which makes it a perfect fit for your mobile device. This doesn't mean that you'd have to compromise on looks and features if you play it on a PC or laptop, it's still just as good. So play this slot on any device that you like and brace yourself for some fast-paced free spins round, a prize wheel chock-full of multipliers, and reel respins with multipliers of up to 25x.
With a bet level that ranges from 0.10 to 100.00, Joker Troupe is playable by nearly everyone. There is one caveat though, it's a high volatility slot, which means it could take a while before you land winning combos. The RTP is a high 96.68% so just be patient and enjoy the game while you're at it.
How to Play Joker Troupe Slot Online
Before you start the trippy Joker Troupe game, set your bets first. You can do this with the arrow beside the Total Bet, click on it and the betting panel pops out so you can choose your bets. Then click on Spin to set the reels twirling. Yes. Twirling.
Now, here comes the features, ushered in by the three differently coloured Jokers from the Joker Troupe:
The Red Joker brings in the Hypermode mode mechanic. Three or more Red Jokers will trigger this amazing feature where you're given 20 seconds of unlimited Joker Spins. Any Red Joker that lands on the reels during these 20 seconds will increase the frequency of the spins. There is a metre beside the timer which you can fill up during the round to get additional 10 seconds in the round.
he Green Joker is the Scatter. Three of these will give you a spin on the Green Joker Wheel. The colourful wheel is filled with numbers that include 2 booster segments. If the wheel stops there, the Wheel multiplier multiplies by the value on the booster and you'll get a respin. Illuminated colour segments award a payout and a respin, regular coloured segments will award prizes based on your stake and the Wheel Multiplier. If you hit the Booster segment thrice, it will end the Green Joker Wheel but you get Red Joker Free Spins.
The Blue Joker is the strangest one of all. Three Blue Jokers will open up this feature. Each Hat and Joker Red symbol that lands will stick to the reels and reset spins left to 3. Each 3 hats or Red Jokers will unlock a new row which will then increase multipliers on all further Hat symbols in the following order: x2, x3, x4, x10, x15, and x25. Landing 3 Red Jokers in the round will trigger the Red Joker Freespins, AKA the Hypermode.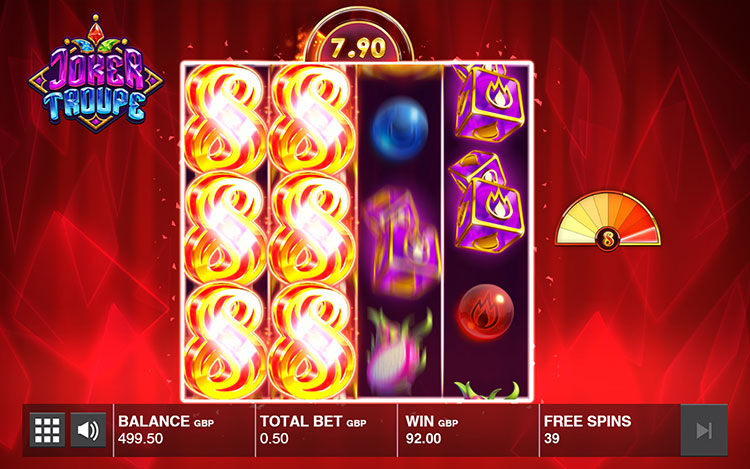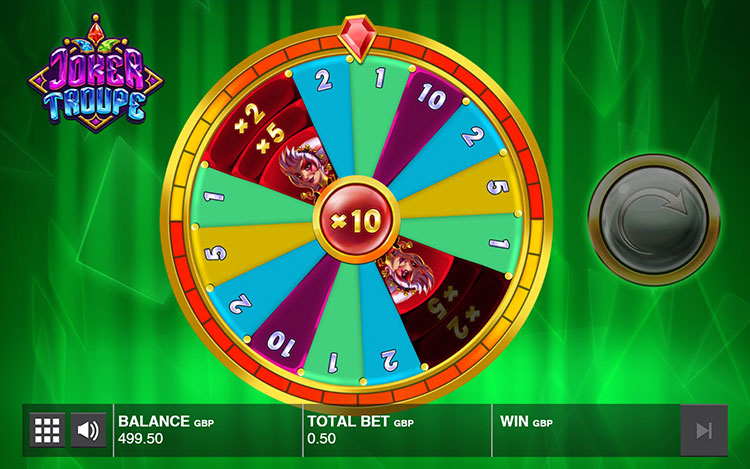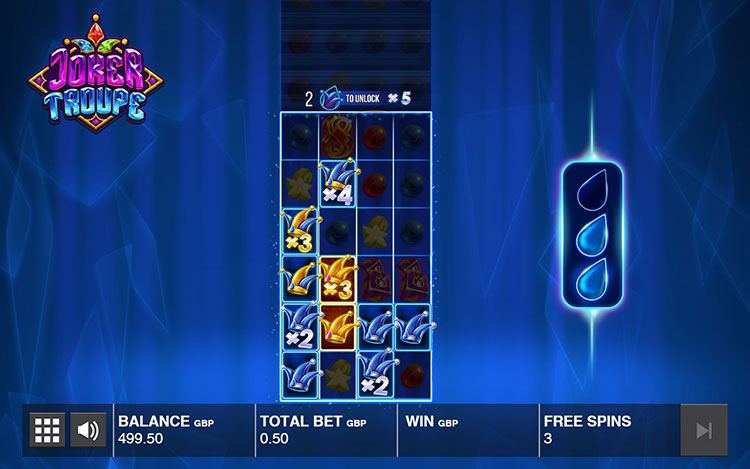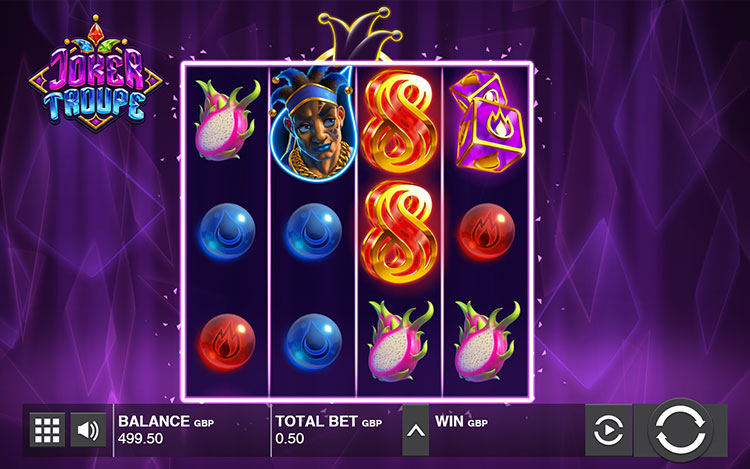 Joker Troupe Slot Game FAQ
What is the maximum bet for Joker Troupe?
The maximum bet you can make in Joker Troupe is 100 per spin.
What is the minimum bet for Joker Troupe?
The minimum bet that you can make in Joker Troupe is 0.20 per spin.
Can I play Joker Troupe on mobile?
Since Push Gaming is a mobile first developer, the Joker Troupe online slot is at its best on mobile devices. Expect the same insane experience on any device of your choice.
What is the RTP of Joker Troupe?
The Joker Troupe slot game RTP is 96.68%, higher than average for online slot games.
What is the biggest potential win for Joker Troupe?
The biggest potential win that you can get from Joker Troup is a whopping 25,367 x your stake.
Joker Troupe Slot Game on ICE36 Casino
TheJoker Troupe slot online is a rarity in the online slot with its fresh and unique theme combined with an unusual combination of features, especially considering it takes place on a 4-reel machine. The never-before-seen Hypermode mechanic is a great feature that only adds to the strangeness of this fun, yet innovative slot. Should you try it out at ICE36 Casino? Yes. The game may sound weird and confusing if you just read about it, but It's best understood when you play it.