Jack in a Pot Slot Machine Game Review and Online Demo
Introduction
Once more, we're off to the Emerald Isle, home to verdant rolling hills, mischievous leprechauns, four-leaf clovers, and gold pots. Red Tiger's game designers based the Jack in the Pot feature on the ever-popular Irish theme. Finish reading to know more about the game and everything it has to offer.
Table of Contents
1. Game Description
2. Game Graphics
3. How to Play Jack in the Pot Slot Online
4. Game Controls
5. Demo
6. Meet the Symbols
7. Bonuses and Special Features
8. Jack in the Pot Game Reviews
9. Pros and Cons
10. Video
11. Game FAQ
12. Play This Game at ICE36 Casino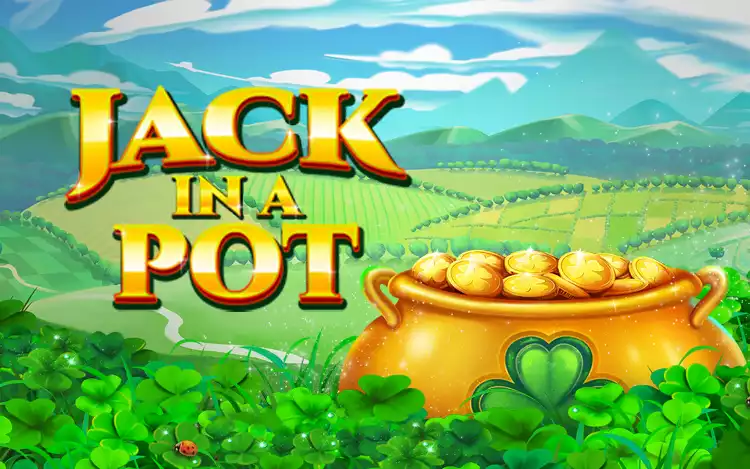 Game Description
Jack In A Pot by Red Tiger is a feature-rich 7x7 cluster-style online slot game. This medium volatility game with an Irish theme offers Cluster Wins, 4 Reel Modifiers, the Free Spins Feature Frenzy, and a maximum payout of 1,743 times the total wager.  It is playable between 0.20 to 40 and the RTP is 96.06% which is the market average for online slots. The 7x7 grid is covered in shamrocks, horseshoes, leprechaun's footwear, and other symbols with similar energies.
Game Graphics
When you access this slot, Jack will be dancing across a rainbow, drinking a beer, and then falling into a pot of gold. Clearly, this leprechaun has discovered the container of gold at the end of the rainbow, and he is eager to share his bounty with you. The developers have paid close attention to detail in this slot, and you will be immersed in its vibrant theme from the very beginning. The reels are nestled in a field of four-leaf clovers against a backdrop of the Irish countryside, replete with cows in the distance and a winding river.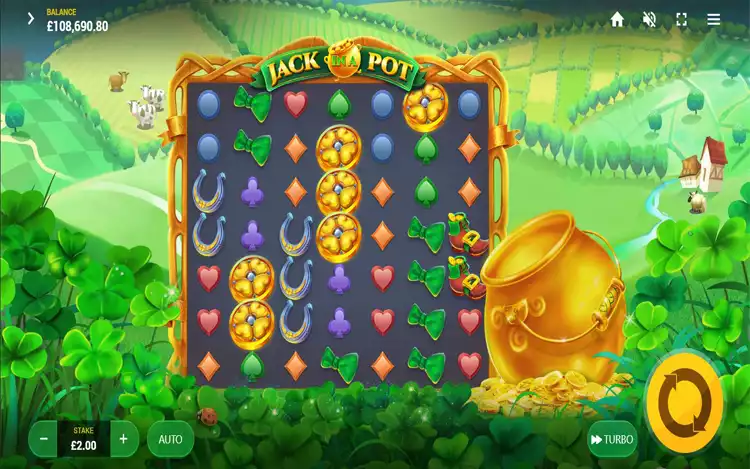 How to Play Jack in a Pot Slot Online
The game is played like many of the mobile apps that you can find that uses clusters so if you have played that even if you have not tried any slot machine before you get an idea of how this works otherwise, here are some steps you can follow to play this game.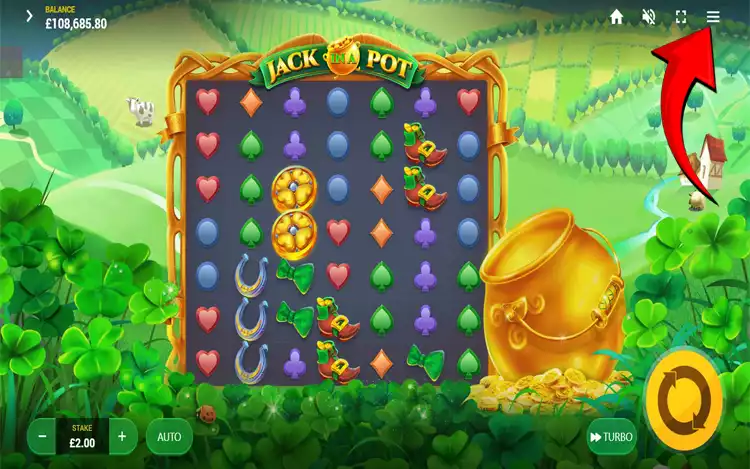 1. Jack In A Pot has an unusual reel layout, as it consists of a 7x7 grid on which symbols must appear in clusters of at least five adjacent symbols in order to pay out. This means that the game has eliminated traditional paylines, and to win, you must simply place five or more matching symbols in a cluster.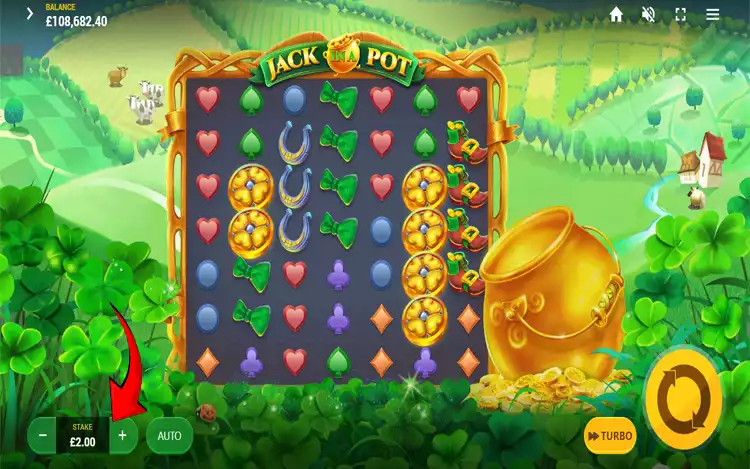 2. To begin, you must determine your coin stake, which can range from 0.20 to 40 per spin. After setting your wager, you can select the golden spin button and wait to see if you've won.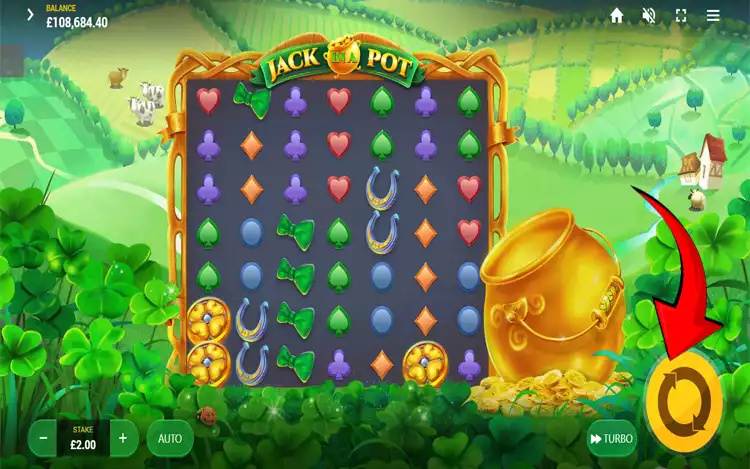 3. Winning at Jack in the Pot is surprisingly easy. Simply position five or more identical symbols adjacent to one another in a cluster.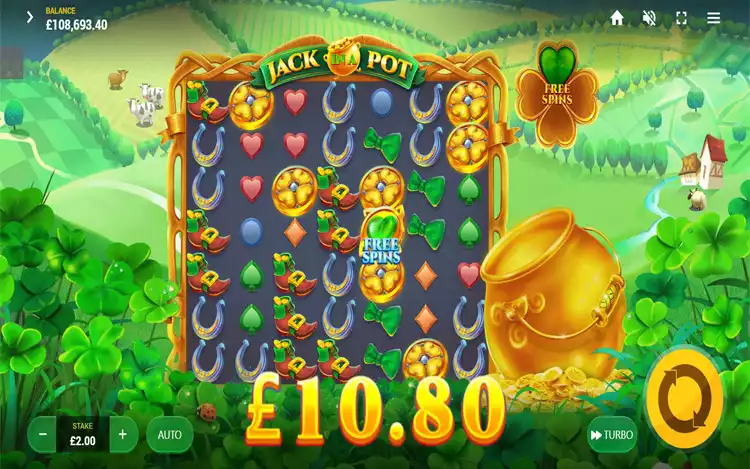 4. After a winning combination has been paid out, it will disappear and be replaced by new symbols, which could result in an additional gain. This will continue until none of the new symbols disclose a win. The game's pay table explains the rules with a simple diagram of the Cluster Pays system, and once you've mastered it, you'll be racking up the victories.
Game Controls
+/- buttons: are used to adjust the amount that you wager
Spin: can be found on the right to start your game
Speaker: controls the game sounds
Three lines: contains the game information and game rules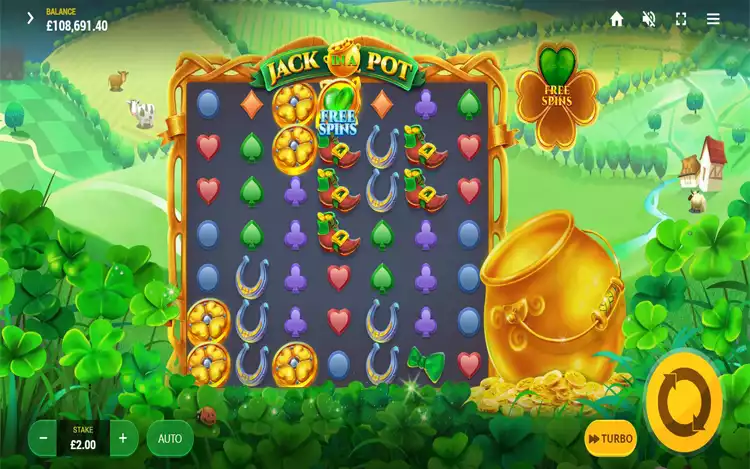 Recommended Games
Game Demo
The Jack in a Pot slot machine, like many modern machines, has a free demo version mode that may be played for free. To get a feel for how this slot machine works before placing any real money into it, the free demo version is highly recommended. The free demo version offers a wealth of information and entertainment value, and it's a great way to get a feel for the game before committing real cash.
*Demo games are only available to registered players with fully verified accounts. Players with fully verified accounts needs to login to play the demo.
Meet the Symbols
On the reels, you will find a whole card suit consisting of clubs, spades, diamonds, and hearts, as well as a symbol that is circular and light blue in colour. The set of icons that have a lesser value in the game is composed of these icons. The symbols with the highest values include a four-leafed clover, a huge gold coin, a lucky horseshoe, and a green bow tie. Another high-value symbol is a boot full with gold coins.
The Wild card can take the form of a beer glass, a hat, a rainbow, or a pipe, and it can appear in any of these four forms at any time during the game. The next piece of information you need to know is that the green tile with a green heart and free spins written across it is the Scatter.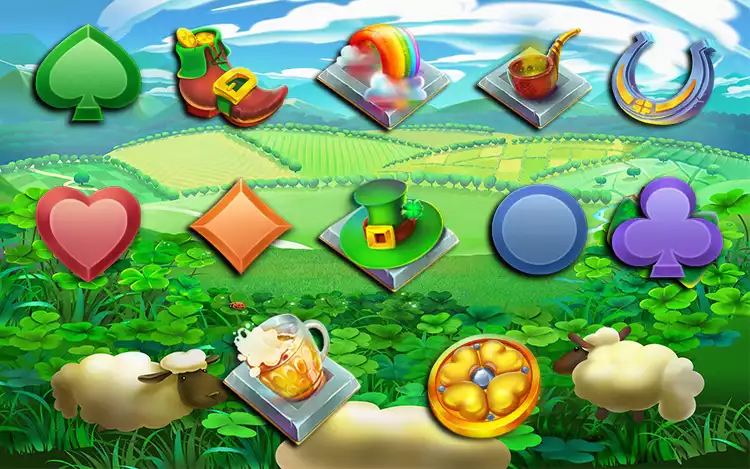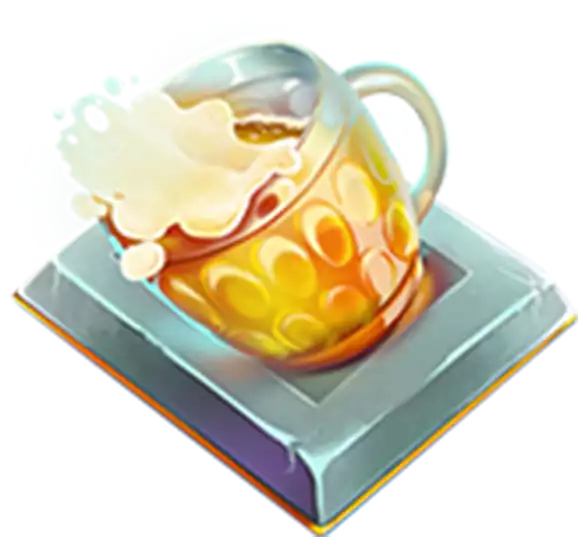 Beer Glass
Value: Wild

Hat
Value: Wild

Rainbow
Value: Wild

Pipe
Value: Wild

Gold Coin
Value: 800

Shoe
Value: 250

Horseshoe
Value: 100

Bow Tie
Value: 50

Spade
Value: 35
Heart
Value: 30

Diamond
Value: 25

Club
Value: 20

Circle
Value: 15
Bonuses and Special Features
Multiple Wilds features and a Free Spins bonus comprises the special features and here we try to explain them.
Jack In A Pot's Wild Symbols Come in Four Flavours: Beer, Pipe, Rainbow, and a Hat. These function similarly to standard Wild symbols in that they can be used in place of any other symbol to assist complete a winning combination. When included in a winning cluster, each Wild triggers a unique special effect.
Pipe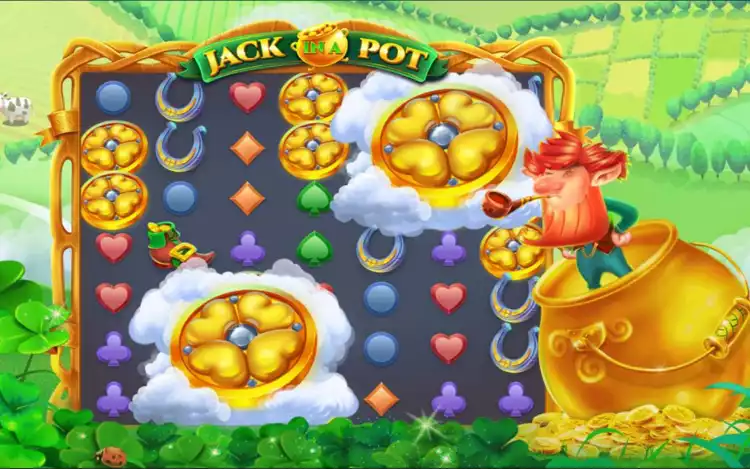 Jack will blow his pipe whenever a winning cluster contains a Pipe Wild. One or more high-paying symbols can grow into Mega Symbols that are much larger in size (up to 4x4 in size) and pay out even more.
Beer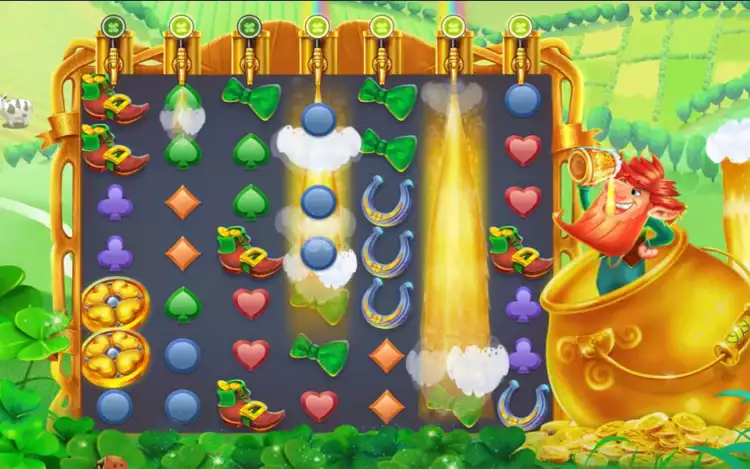 Jack downs his beer whenever the Beer Wild contributes to a winning cluster in Beer Reels. The beer taps suddenly begin dispensing on a whim. The chosen Beer Reels will be covered in matching symbols to increase the potential for larger clusters.
Rainbow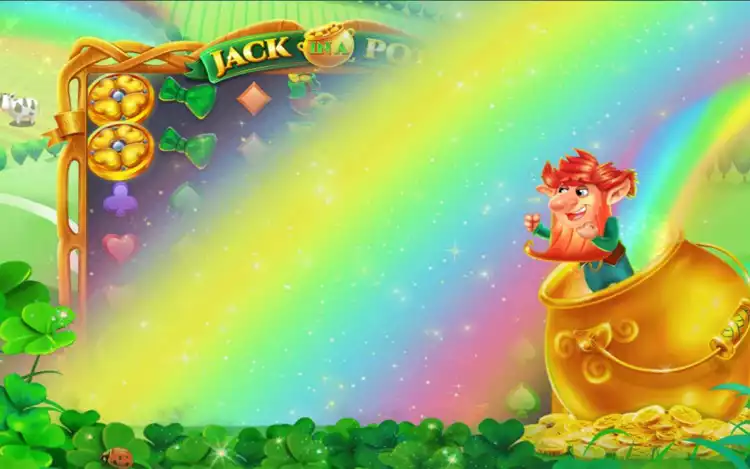 Rainbow Swaps: When the Rainbow Wild appears in a winning cluster, a massive rainbow falls onto the reels and replaces random tiles with identical symbols.
Hat Trick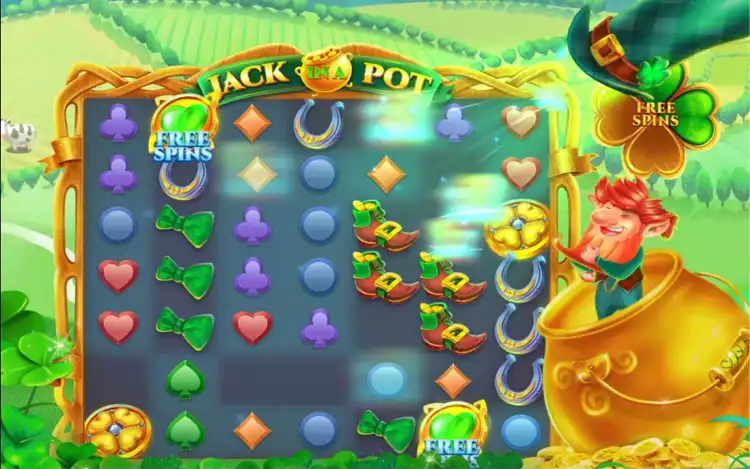 The term "hat trick" refers to the act of a person throwing a coin into a winning pile. Then, it removes the less lucrative icons from the reels to increase the probability of higher payouts.
Free Spins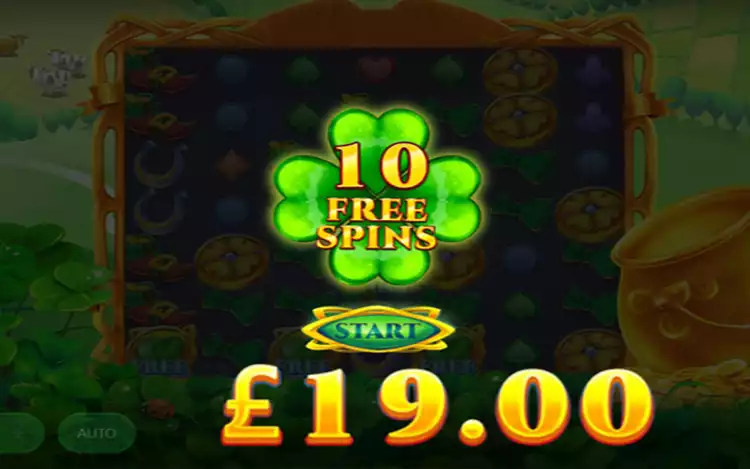 When you get four FREE SPINS Clover symbols in a single spin, you'll trigger the free spins bonus round. Accumulating these symbols over multiple cascading wins will result in 10 free games for the player.Once the last spin has been completed, any further special Wilds that have been accumulated throughout Free Spins will be unlocked one by one. This is a fantastic Free Spins round, full of exciting gameplay and generous rewards.
Jack in a Pot Game Reviews
The Jack in A Pot slot can be seen on many casino gaming sites. They have featured and reviewed this game. One of the reviews said that the ultimate jackpot for the Jack in the Pot online slots game is an incredible 1,743 times your initial wager, and you can win this prize if you are successful in triggering all of the game's modifier symbols. The game is an excellent slot overall. Another review said that Jack In A Pot is a bright and engaging cluster-style game that offers an entertaining alternative to traditional 5 reel video slots. While the Irish motif may be somewhat overused in the world of online slots, Red Tiger has introduced some innovative features.
Pros and Cons
There are plenty of reasons to play this slot machine and very little not to. Here are some of the Pros and Cons.
Pros
The game offers great rewards

Exciting gameplay

Plenty of features that include free spins
Cons
The game does not have a progressive jackpot
Jack in a Pot Game Video
The Jack in A Pot slot is loaded with features and exciting gameplay and this video will try to bring everything in a few minutes. We recommend that you watch this video to see first hand all that the game has to offer and be able to decide how much you want to play this slot.
Game FAQ
Here we try to answer the most asked questions about the Jack in A Pot slot.
What is the maximum bet for Jack in a Pot?
The max bet is 40.
What is the minimum bet for Jack in a Pot?
The minimum bet is 0.20
Can I play Jack in a Pot on mobile?
Yes, you can play on any Android or iOS mobile device.
What is the RTP of Jack in a Pot?
The RTP is 96.06% which is the industry average for online slots.
What is the biggest potential win for Jack in a Pot?
The biggest potential win is 1,743 times your stake.
Play This Game at ICE36 Casino
The Jack in A Pot slot game is an Irish luck themed game that uses a cluster mechanic and provides possibly large rewards. You can find this game in the ICE36 Casino online. If you are looking for a seamless slot experience then this is for you. Register today and enjoy a welcome bonus and be eligible for future offers.