Jack Hammer Game Description
NetEnt's Jack Hammer game boasts of a striking cartoon comic book design. Its title character Jack Hammer being a crime-solving detective, the slot delivers on the neo-noir aesthetic with its background of a metropolis against a purple sky. Comic book mainstays also appear in the game in creative ways: for example, you will find paylines encased in speech bubbles. With 25 paylines across a grid of five reels and three rows, this slot attracts many players not just for its gameplay but for its worldbuilding as well. You too can step into the gritty world of Jack Hammer, where mysteries are just waiting to be uncovered and solved.
How to Play Jack Hammer Slot Online
With its device optimisation, you can play the Jack Hammer slot game anywhere. Whether at home or on the go, whether on your laptop or your phone, this game is built to be flexible. Set in the shady and shadowy Grand City, this mystery-laden backdrop is home to the game's many symbols, all of which come unique to this slot machine. Say goodbye to the usual lower-value card symbols that come with classic games; here in this slot, every symbol represents a facet of the title character's detective story, offering you a rich narrative experience with the detective genre's most iconic tropes such as evil masterminds, a getaway car, and classic newspapers.
Jack Hammer slot online has plenty of unique features on offer. Though the game might not be quite so entertaining musically, with background music available only in the bonus rounds, the gameplay itself is exciting enough to keep you busy and focused on the grid. One of the slot's most striking features is Sticky Win, where a winning reel will be locked in place while the rest of the reels keep rolling to give you a chance for more wins. Another great bonus to unlock is the Free Spin feature. Equipped with a multiplier when Free Spin is activated, your free spins could increase in increments with every additional Free Spin symbol that appears on the reel. The more Free Spin symbols show up, the more you get and the less you'll have to bet, which could give a huge bump to your potential earnings.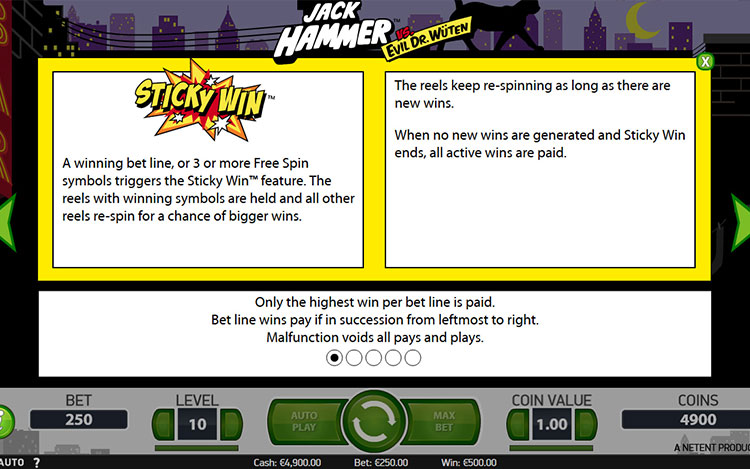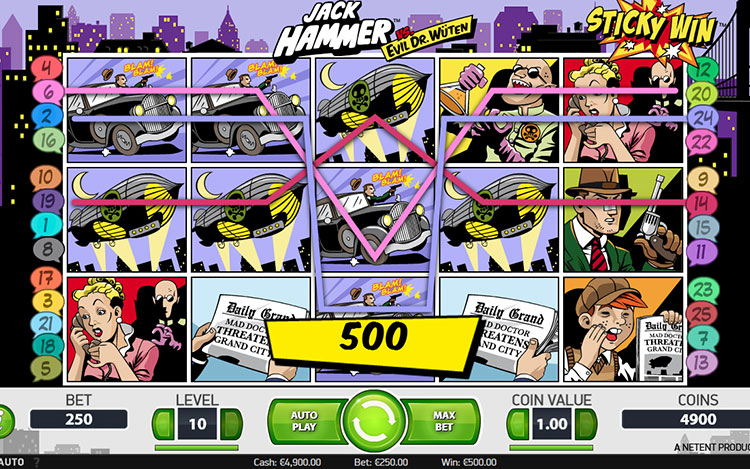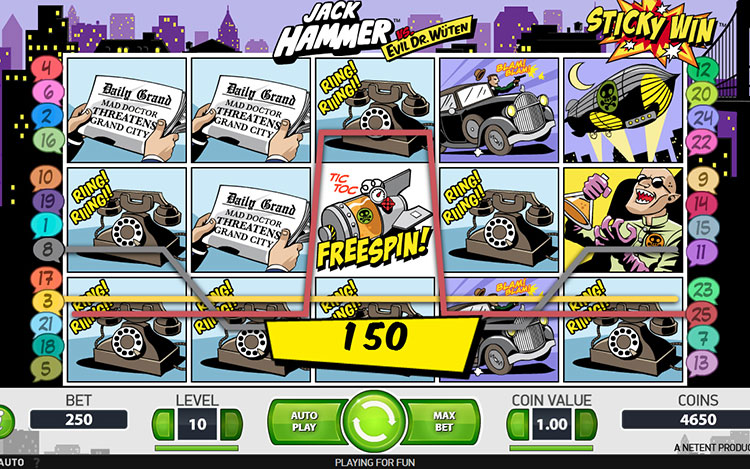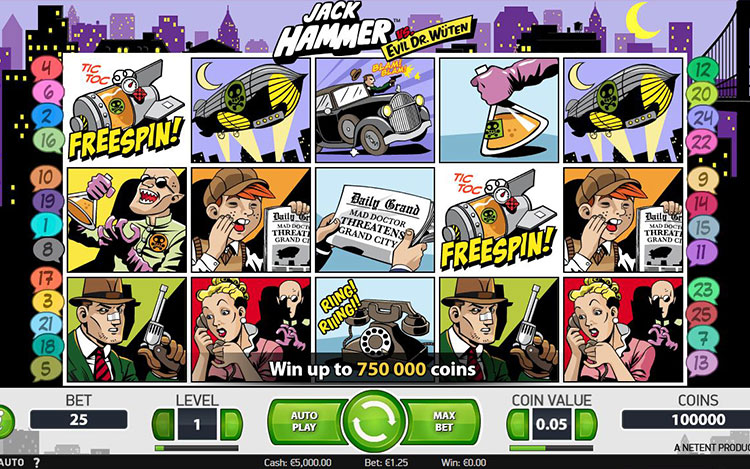 Meet the Jack Hammer Symbols
The crowning glory of Jack Hammer online slot is of course Jack Hammer himself. This hard-boiled detective is the game's highest-paying symbol, so be on the lookout for when he shows himself within the backdrop of Grand City.
Of course a detective hero story is nothing without a great villain. For that, the game has Dr. Wuten with his menacing laugh and diabolical plans. And why else would a hero fight a villain if not to save someone? This slot also comes with a damsel in distress screaming for help. In this timeless world set in a dangerous metropolis, the design harkens back to classic comic books by the absence of mobile devices; instead, there is the newspaper, which all the citizens of Grand City rely on for their news.
You will find more symbols that add to the worldbuilding of this richly realised game: the evil mastermind Dr. Wuten's blimp, a car owned by gangsters, and a headline with the struggle that Jack Hammer must face, with the words "Mad Doctor Threatens Grand City."
With the flavour of a noir story married with the cartoon style of classic comic books, there is a lot to admire about Jack Hammer slot machine's immersive world with its thoughtful and artfully rendered symbols.
Jack Hammer Slot Game FAQ
What is the maximum bet for Jack Hammer?
When you play this game, you can bet as little as .25 credits or as much as 250 credits.
What is the minimum bet for Jack Hammer?
When you play this game, you can bet as little as .25 credits or as much as 250 credits.
Can I play Jack Hammer on mobile?
Jack Hammer is available to play on any device, with optimisation to fit any screen size, whether it's on your laptop or your smartphone.
What is the RTP of Jack Hammer?
With an RTP of 97%, this is a high-volatility game which will add to the gameplay's excitement.
What is the biggest potential win for Jack Hammer?
Take the risk with your bet: On the one hand, you might see yourself lose a lot in your balance but on the other, you might just win big with a maximum potential winning value of 250,000 coins all in one go.
Jack Hammer Slot Game on ICE36 Casino
NetEnt's innovative designs and fully realised themes come into full force with Jack Hammer, which offers not just the potential for winning combinations for players but also an already winning combination of a comic book detective hero, a gorgeous backdrop and side characters, and a wealth of exciting bonus features. Try out this game on ICE36 Casino, a safe and secure casino environment where you can play wherever you are!