Guns N' Roses Game Description
Featuring the classic five reels and three rows setup, the Guns N' Roses game offers 20 paylines along with bonus features. While the bonuses are a surefire way to keep you playing, it's the aesthetic beauty of the game that truly grabs your attention. Featuring stunning design choices and gorgeous colour combinations, you are first taken into the world of the band at their best: at a massive outdoor concert venue. From there, the band's iconic imagery comes in full force with creatively rendered symbols that literally spread across the grid and bold design choices the likes of which are rarely seen in slot games.
How to Play Guns N' Roses Slot Online
With only 20 paylines, the Guns N' Roses slot game features pretty straightforward gameplay. Be sure to familiarise yourself with the possible winning combinations on the paytable before you start the game. Place your bet for as low as 0.20 or take a leap and bet as much as 200.00. Starting the game is as easy as pressing the Spin button and waiting for the results of your spin. If your spin yields three matching symbols, you win! Depending on the symbols that you end up matching, you can win different prizes or unlock the game's bonus features. And don't forget to turn up the volume so you can jam to the band's music as you play!
The band's well-known logo is Guns N' Roses slot online's Wilds symbol, which will substitute for any other symbol. Several of these can also trigger expanding reels. Another bonus you might encounter is the Legend Respins feature. When this is activated, you will get not just free respins but also randomly generated Wilds symbols. Something else to look forward to is the Crowd Pleaser Bonus, which offers you plenty of reward options, from coins to free spins, and plenty more if you decide to keep playing. Guns N' Roses online slot has a high RTP of 96.98%.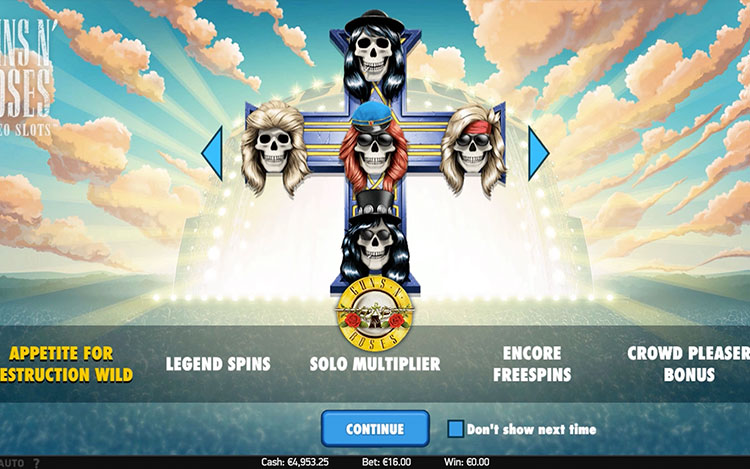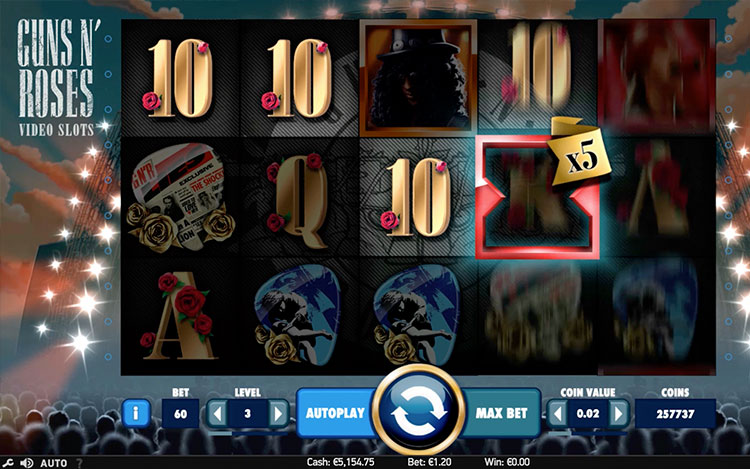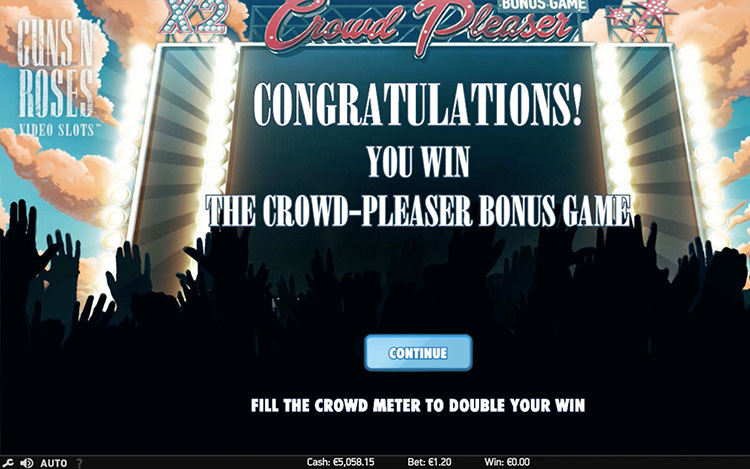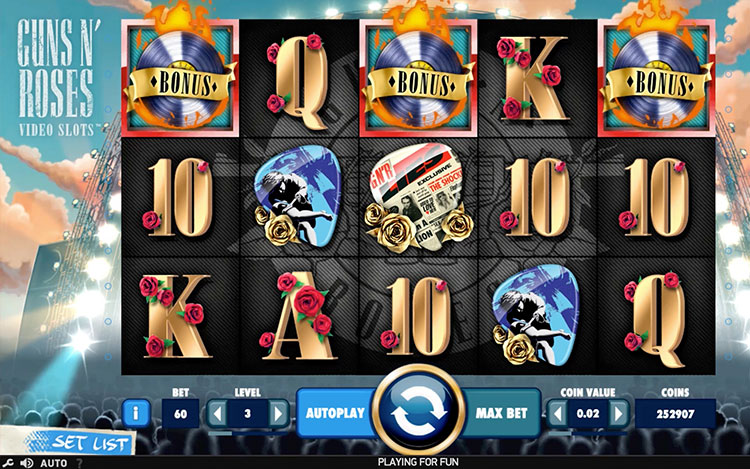 Meet the Guns N' Roses Symbols
Without a doubt, Guns N' Roses slot machine's crowning glory are its symbols. Each and every symbol is masterfully designed with little details that make them a cut above the usual designs available on slot games. The low-paying card symbols from 10 to Ace are modelled after the band's trademark logo. The letters and numbers sport a shiny bronze-gold finish while delicate red roses drape over the curves and edges. And if you think these low-value symbols are already artfully designed, wait until you see the higher-paying ones!
Featuring painterly likenesses of the band members, the slot's highest-paying symbols offer nearly 15 times as much as the most basic symbols. Other symbols to watch out for and admire for their beauty are two guitar picks adorned with golden roses. Bonus symbols are indicated by a flaming vinyl disc set against a frame, reminiscent of a certification disc. With the word Bonus displayed across the disc, it's hard to miss.
Equally as superb as the soundtrack are the symbols, and you might find yourself both staring at them and playing in equal measure! Simply put, the artistry put into the design of this slot's symbols is leagues beyond what is often expected in slot games.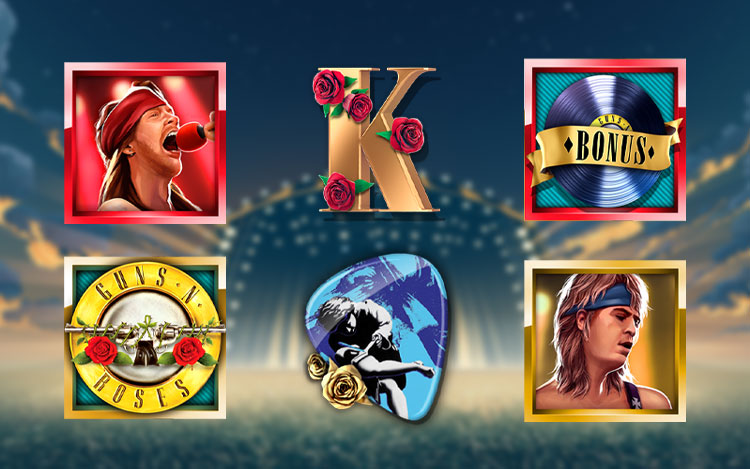 Guns N' Roses Slot Game FAQ
What is the maximum bet for Guns N' Roses?
The most you can bet on this game is 200.00. You can also bet for as low as 0.20.
What is the minimum bet for Guns N' Roses?
The most you can bet on this game is 200.00. You can also bet for as low as 0.20.
Can I play Guns N' Roses on mobile?
While Guns N' Roses is optimised for mobile and can be played on any device, why not take the option to play it on a bigger screen so you can fully admire the gorgeous graphics?
What is the RTP of Guns N' Roses?
This game has an RTP of 96.98%.
What is the biggest potential win for Guns N' Roses?
The maximum payout you could get playing Guns N' Roses slot is 150,000. By slot game standards, this is a somewhat smaller amount than other games. However, the slot's design and aesthetic values more than make up for it and could very well be the biggest draw.
Guns N' Roses Slot Game on ICE36 Casino
Already famed for their high-quality games, NetEnt went above and beyond with this music-infused offering. Both a tribute to the legendary band as well as a showcase of graphic artistry, this game is a must-try for anyone looking to play a beautifully designed slot game. You can find more slots at ICE36 Casino, where you can play in a safe and secure environment.