Buffalo Blitz Slot Machine Game Review and Online Demo
Introduction
Buffalo Blitz slot developed by Playtech is a gorgeously designed reel game played on six reels and four rows, which gives it a unique flavour. Featuring a grasslands setting against the backdrop of a sunset, this animal-themed slot is not only easy on the eyes but a bang for your buck too.
Table of Contents
1. Game Description
2. Game Graphics
3. How to Play Buffalo Blitz Slot Online
4. Game Controls
5. Demo
6. Meet the Symbols
7. Bonuses and Special Features
8. Buffalo Blitz Game Reviews
9. Pros and Cons
10. Video
11. Game FAQ
12. Play This Game at ICE36 Casino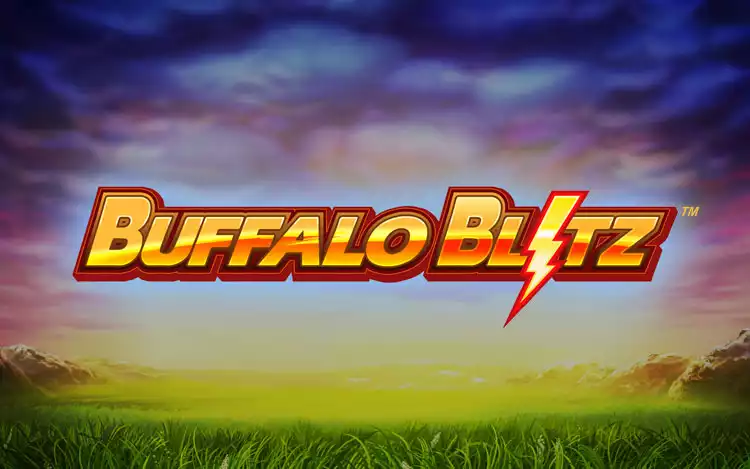 Game Description
Beautifully animated with an artistic quality that feels both painterly and 3D at the same time, the Buffalo Blitz game shows this off best with its background and many animal symbols. Everything about this slot seems designed to be beautiful, from the backdrop to the grid frame and even to the symbol backgrounds. It is also easy to navigate around the screen, with well-designed buttons for ease of navigation. Feast your eyes on this aesthetically-pleasing slot as you try your luck at winning big… and you can get the chance to win plenty of ways with 4,096 paylines on an unusually-designed 6x4 grid.
Game Graphics
Buffalo Blitz is an attractive online slots game that is suitable for both novice and seasoned players. It has been meticulously crafted and has a 3D-like appearance; the subtle animations and slick visual effects will make it a fan favourite. In addition, the game is simple to play and the navigation is intuitive.
The reels are set against a lush green grassland at dusk, and the rich purple and navy blue of the sky contrast brilliantly with the bright green of the grass. A gold frame distinguishes the reels from the heavens, and all symbols are set against a royal blue backdrop. It features a beautiful colour combination that makes it appealing.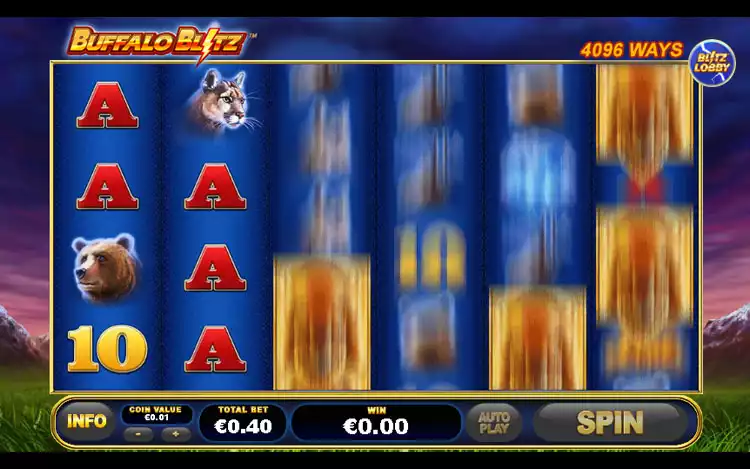 How to Play Buffalo Blitz Slot Online
The Buffalo Blitz slot has interesting gameplay. It features six reels and 4,096 possible winning combinations per play.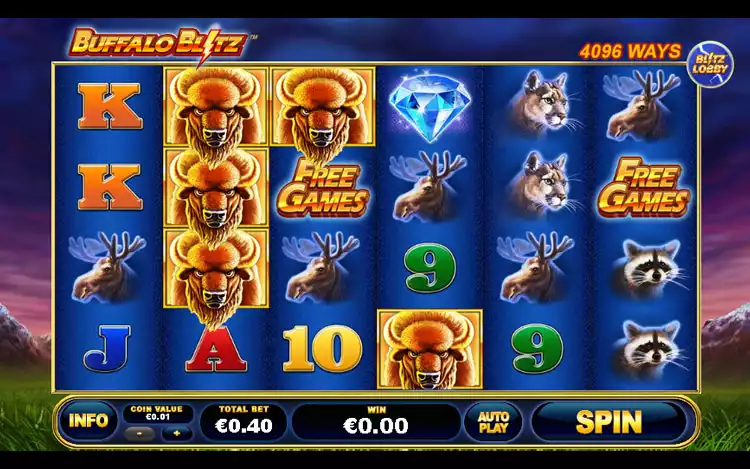 1. This means that the more traditional paylines have been eliminated and you must secure symbol combinations from the far left on adjacent reels. Three or more identical symbols appearing from left to right will result in a triumph.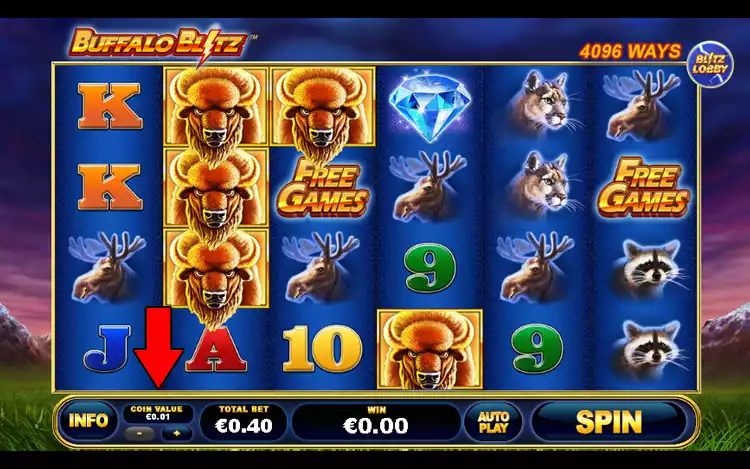 2. We always recommend that you visit the paytable and the game rules for a better understanding of any slot you want to play.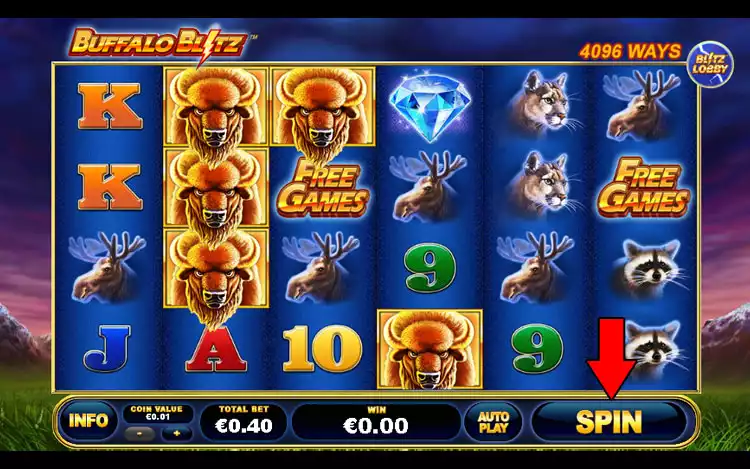 3. As there are no traditional paylines, simply adjust the coin value using the plus and minus icons below the reels before pressing the spin button. Between 0.40 and 200 can be wagered per spin, so there is bound to be something that fits your budget.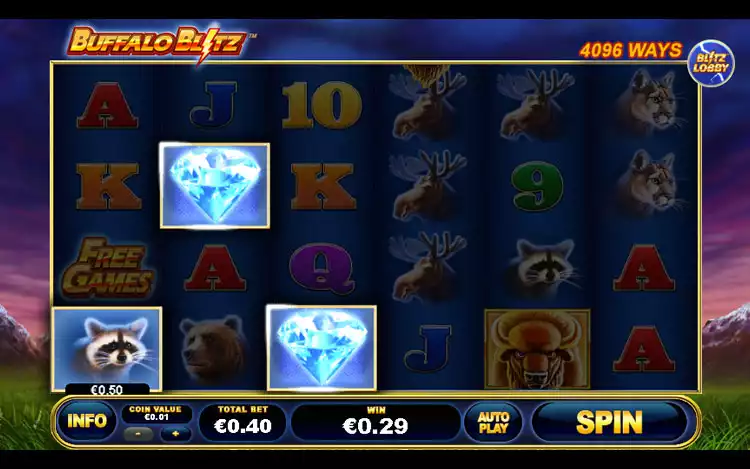 4. When you press the spin button, the reels will begin to spin, and you will only need to observe to see if you are a winner.
Game Controls
+/- buttons: are used to adjust the amount that you wager
Spin: can be found on the right to start your game
Speaker: controls the game sounds
Info: contains the game information and game rules
Gear icon: allows you to customise your game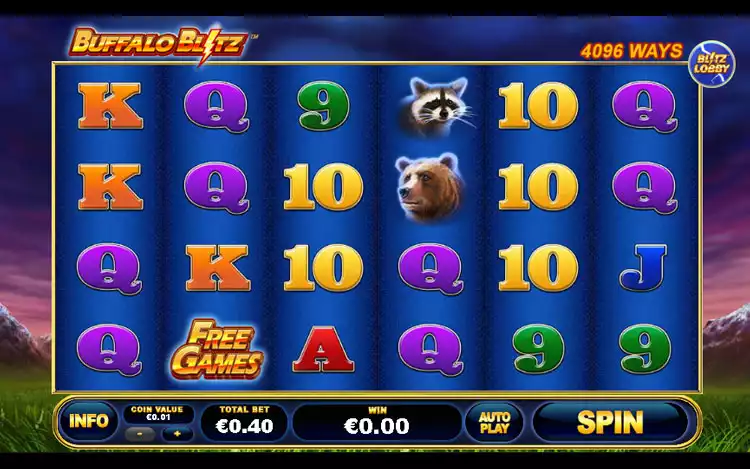 Recommended Games
Game Demo
The free demo version of the Buffalo Blitzslot allows you to gain experience of the game without placing a wager. The free demo version gives you unlimited spins without any risks and you only need to do is register. This can be helpful for first time slot players and even people who want to get acquainted with the game.
*Demo games are only available to registered players with fully verified accounts. Players with fully verified accounts needs to login to play the demo.
Meet the Symbols
There are Buffalo, Lynx, Racoon, Moose and Bear symbols.  These symbols represent the standard paying symbols in the slot machine and will award various payouts based on the icon and the number of times it appears on the reels. The utmost payout for matching 6 of these symbols is up to 250 coins, and the minimum payout for matching 2 of these symbols is up to 10 coins. The second set of characters consists of the standard playing card symbols A, K, Q, J, 10 and 9. These symbols represent the low-paying icons in the game, and their rewards vary based on the symbol that is matched on the reels. The utmost payout for matching 6 of these symbols is up to 150 coins, and the minimum payout for matching 3 of these symbols is up to 10 coins.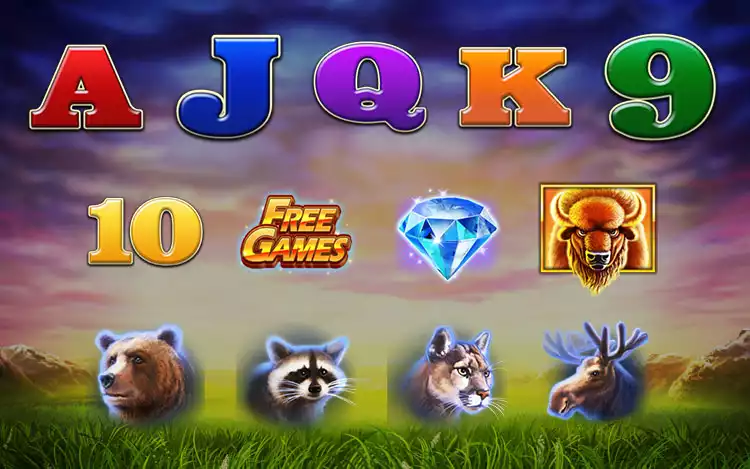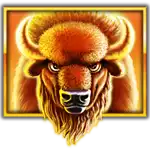 Buffalo
Value: 300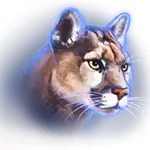 Lynx
Value: 250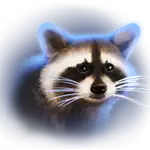 Racoon
Value: 250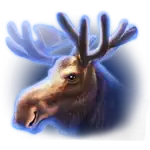 Moose
Value: 200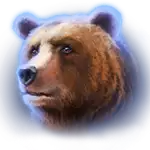 Bear
Value: 200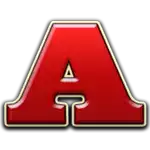 A
Value: 150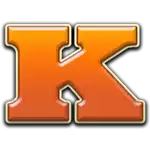 K
Value: 150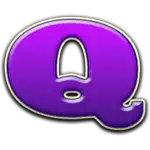 Q
Value: 120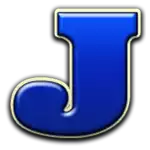 J
Value: 120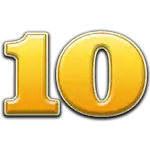 10
Value: 100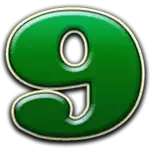 9
Value: 100
Bonuses and Special Features
Buffalo Blitz is packed with bonus features that many players prefer. Free Spins and Multipliers are the highlight of this slot machine and here are some information about them.
Wild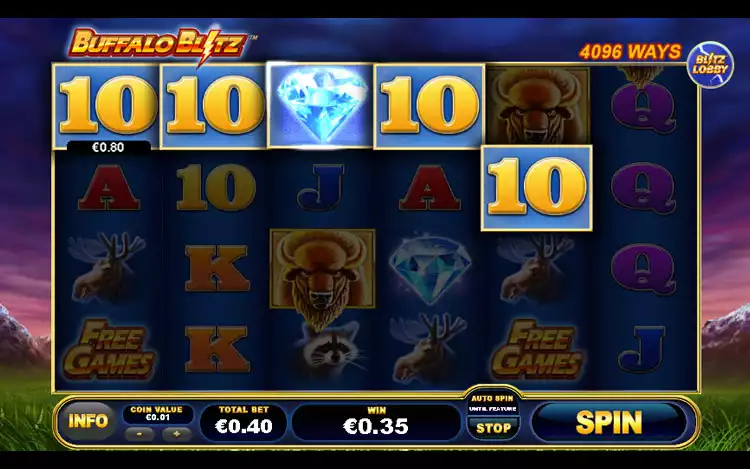 This slot machine's wild symbol is a diamond, and it only appears on reels 2, 3, 4, 5, and 6. It will assist you in forming successful combinations on every spin. This wild diamond will substitute for all symbols in the slot machine, with the exception of scatter symbols.
Free Spins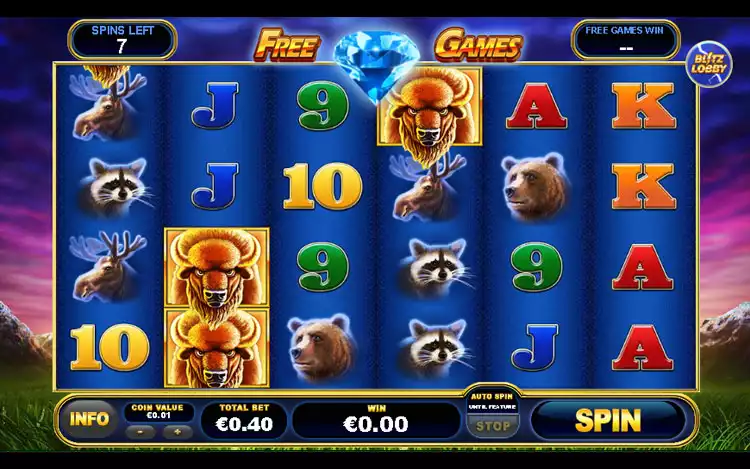 There is also an easily identifiable scatter symbol in the slot, and landing 3 or more of it anywhere on the reels will award up to 100 free spins. During the free games mode, the wild symbol multiplies wins by an arbitrary factor of 2, 3, or 5. Free games can be retriggered by landing two or more scatter symbols on the reels.
Buffalo Blitz Game Reviews
Buffalo Blitz has been featured and presented at many casino gaming sites. They have reviewed this game and one of them said that Playtech understands what many slot players are looking for like easy to follow gameplay and a great rewards system. The graphics are colourful and excellently designed and the features makes this game even more exciting.
Pros and Cons
The Pros and Cons will help you know the game more and help you decide on how much you are willing to wager for this game.Here are some of the pros and cons of playing this game. These are here to help you decide how much you would want to risk for this slot.
Pros
Free Spins

Excellent Graphics

Huge possible rewards

Multipliers
Cons
Slightly below market RTP
Game Video
If you want to see this game in action before you even make your first spin we recommend that you watch this short video of the Buffalo Blitz game. Watch the game highlights and some of its features. This can ultimately help you decide if this game is for you.
Game FAQ
Let us give answers to many of the questions that players prefer knowing before they start spinning.
What is the maximum bet for Buffalo Blitz?
The maximum bet is 200.
What is the minimum bet for Buffalo Blitz?
The minimum bet is 0.40.
Can I play Buffalo Blitz on mobile?
This game is optimised to comfortably fit screens on all devices.
What is the RTP of Buffalo Blitz?
The game has an RTP of 95.95%, promising the potential of regular returns.
What is the biggest potential win for Buffalo Blitz?
You could win as much as 250,000 coins on this slot game.
Play This Game at ICE36 Casino
Playtech has designed another great game with Buffalo Blitz. You can find this slot machine here at ICE36 Casino. The site holds a great selection of games that you can choose from. Visit the ICE36 Casino today and register to receive a generous welcome bonus and be eligible for future offers. ICE36 Casino offers a seamless gaming experience for all its players.