88 Fortunes Game Description
The 88 Fortunes game is chock full of symbolism, from its vibrant colours down to its choice of numbers. Bright gold and deep red are the primary colours of the game, symbolising good fortune, just like the slot's title. Meanwhile, 88 refers to the maximum bet amount of 880 coins as well as to the number 8, which resembles the infinity symbol, promising infinite good fortune and good luck. The entire slot is dominated by Chinese influences, from paper lists to its rich symbols and even the background music. Played on a grid with 5 reels and 3 rows and offering 243 paylines, the 88 Fortunes slot game just might bring you infinite fortunes as well.
How to Play 88 Fortunes Slot Online
Everything in 88 Fortunes slot online runs in an infinite circle, so you will always keep coming back to the number 8. Bet for as low as 0.88 or as high as 88.00, either way let's hope that luck is on your side! However, the RTP isn't 88%. It's a much better 96%, which promises a high return rate.
When you play 88 Fortunes online slot, you'll immediately recognise all the classic elements of standard slot games: the lower-value card symbols, the higher-paying symbols that revolve around the game's theme, the Wilds and Scatters, the free spins bonus rounds, and of course the wide range of allowed betting amounts. With everything presented in enticing reds and golds, and featuring striking designs as well as an easy-to-understand interface, you will have no trouble learning the ins and outs of this game.
Though the slot has a fixed wild, it doesn't offer wins, which is unfortunate. However, if you match the Scatter symbols, it will trigger your free spins bonus round. Another thing to look forward to in this game is the Fu Bat bonus. This is a bonus matching game that could win you as much as 10,000 credits.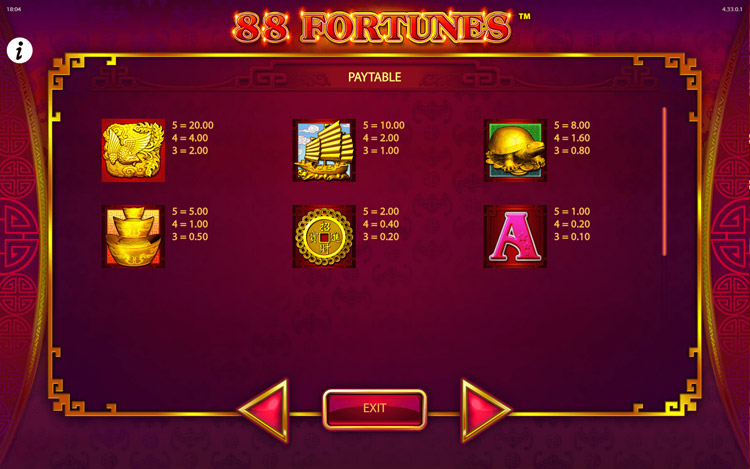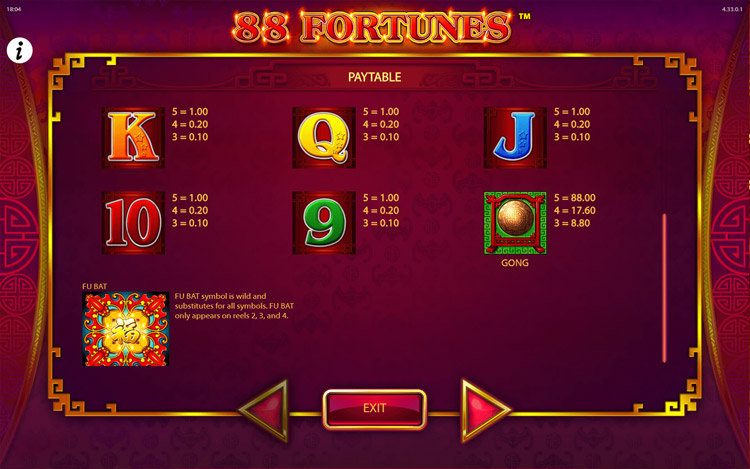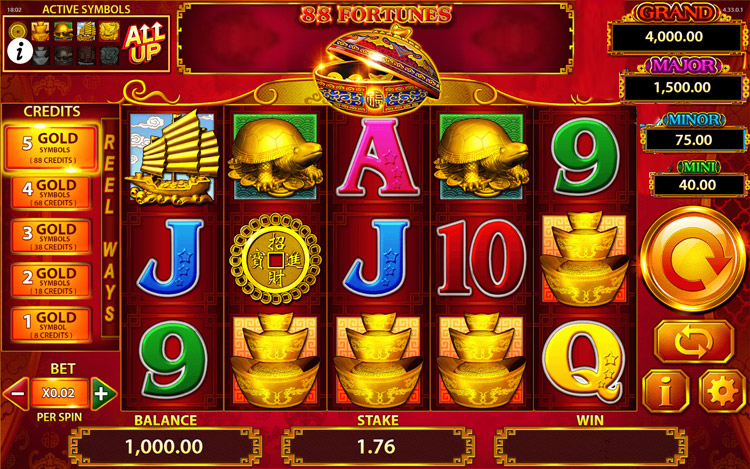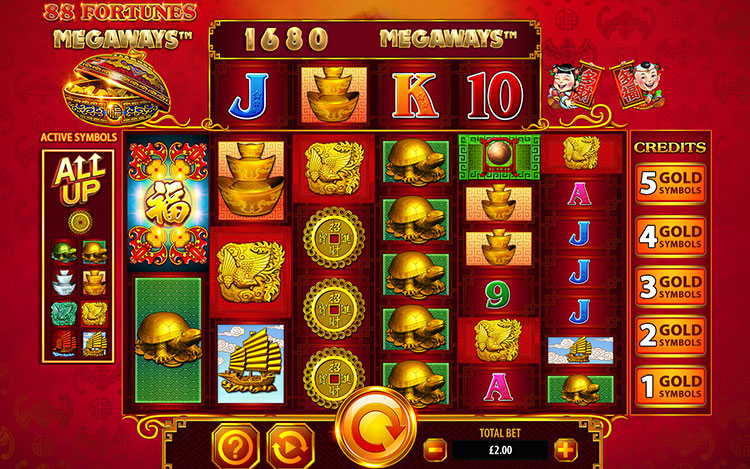 Meet the 88 Fortunes Symbols
The 88 Fortunes slot machine delivers on all the standard offerings of a typical slot game, so you will find the low-paying card symbols from 9 to Ace. The grid design is especially large, which also showcases particularly large symbols. Each of the letters and numbers jump off the screen with their bright colours and shiny finish. Though the game can at times feel a little too bright and colourful, all the colours do help to differentiate each symbol from the others.
The higher-valued symbols all boast of detailed, bold designs featuring East Asian (but primarily Chinese) elements. Most of them have a striking gold finish, contrasting well with the red backdrop. In the game, you will spot birds, junk ships, turtles, Chinese coins, and Chinese ingots. These symbols have a 3D quality to them and they seem to pop off the grid, despite remaining static. Be sure to keep your eyes peeled for the wooden gong; this is the Scatter symbol with 3 matches activating the free spins round. When the free spins are triggered, the low-value symbols are removed and replaced by higher-paying ones. Also pay attention to the Chinese coins because matching these will grant you access to the Fu Bat bonus round.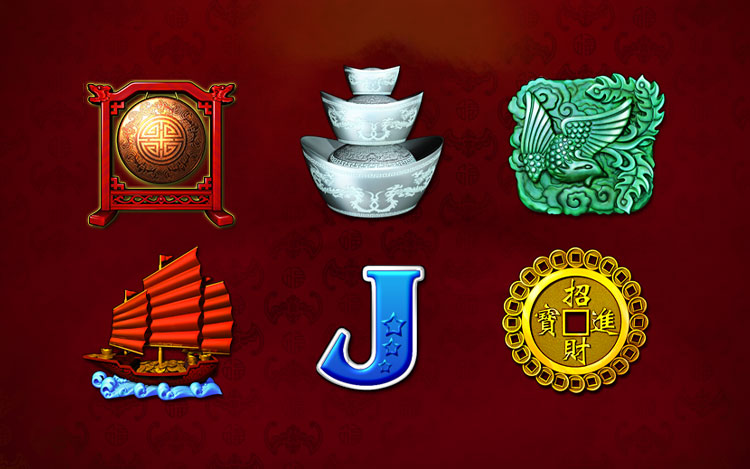 88 Fortunes Slot Game FAQ
What is the maximum bet for 88 Fortunes?
Start low and safe with 0.88 or go right for the highest stake with 88.00. Either way, fortune might be on your side!
What is the minimum bet for 88 Fortunes?
Start low and safe with 0.88 or go right for the highest stake with 88.00. Either way, fortune might be on your side!
Can I play 88 Fortunes on mobile?
This game is optimised for mobile devices and is designed to fit all screen sizes. So get playing anywhere, anytime.
What is the RTP of 88 Fortunes?
The RTP of this slot is a high 96%, which in this case is considerably luckier than 88%!
What is the biggest potential win for 88 Fortunes?
The grand jackpot could be 200,000 times your stake. But to win big, you must also risk big. Place a higher stake if you'd like to take a shot at this huge prize.
88 Fortunes Slot Game on ICE36 Casino
The 88 Fortunes slot machine is a classic in the slot machine world, whether in land casinos or online. When you try it out for yourself, you'll see exactly why. With an attractive design and the prospect of such huge prizes, 88 Fortunes game's success is well-deserved. You can check out more slots here on ICE36 Casino, where we guarantee you a safe and secure playing experience.