Take a spin on Slingo Rainbow Riches to complete Slingos, win cash prizes, and discover fantastic bonus features! Barcrest's Slingo Rainbow Riches has something for everyone, whether you're a fan of Slingo games, the Rainbow Riches series, or you're new to both. Check out our Slingo Rainbow Riches slot review to find out everything you need to know about this game. 
Slingo Rainbow Riches Slot Details and Technical Features
Like other Slingo games, Slingo Rainbow Riches is a combination of two gameplay styles: slot and bingo. It's played on a 5x5 grid containing 25 different numbers, with a row of five reel positions at the bottom of the screen. Press the 'spin' button to play Slingo Rainbow Riches slot, and a set of numbers will appear across the reel positions. 
The aim is to match numbers shown on the reel positions with those on the grid — do that and you'll complete Slingos! Each game of the Slingo Rainbow Riches casino slot you play will last for 10 spins. 
Each time you complete a Slingo, you'll advance up the paytable and win bigger prizes. The biggest prize, at the top of the paytable, is the Full House. And if you land a Joker symbol, you'll get the chance to choose a number to match on the row above it, which can help you complete a Slingo. There are other symbols to watch out for — we'll cover them later in our Slingo Rainbow Riches online slot review. 
Game Symbols 
As well as the numbered symbols, there are a few others to look out for:
Joker Symbol
If a Joker symbol appears on any of the reel positions, you'll get to mark off one of the numbers on the row above it. 
Super Joker Symbol
Super Jokers enable you to mark off ANY number on the grid, so you could complete Slingos faster if you land a few of these. 
Devil Symbol
The Devil symbol blocks symbols and makes it more difficult for you to complete Slingos. 
Free Spin Symbols
Any Free Spin symbols that appear on a reel position will add an Extra Spin at the end of the current game. 
RTP
Barcrest's Slingo Rainbow Riches slot UK has an RTP of between 94.92% to 95.61%. You can bet from 0.50 to 100 per spin. 
Slingo Rainbow Riches Slot Bonus Features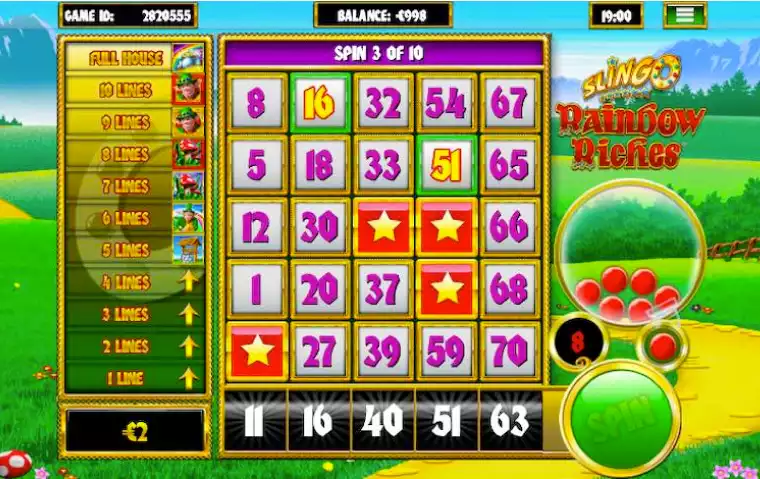 Extra Spins
Extra Spins become available after every game of 10 spins in the Slingo Rainbow Riches mobile slot — for a price. You can keep playing the current game if you're prepared to pay the cost shown on the 'spin' button. 
Wishing Well Bonus Game
Land the Wishing Well symbol to trigger the Wishing Well Bonus. You'll be presented with a rural scene featuring three wishing wells and a rainbow: choose one of the wishing wells to reveal a cash prize!  
Cash Crop Bonus Game
The Leprechaun symbol triggers this Slingo Rainbow Riches slot bonus feature. You may play through four rounds with increasingly valuable prizes up for grabs. 
Magic Toadstool Bonus Game
The Toadstool symbol triggers the Magic Toadstool Bonus Game. Pick three Toadstools to reveal prizes or fairies, which will add three additional values. 
Magic Toadstool Red Bonus Game
Land the Red Magic Toadstool to win the Magic Toadstool Red Bonus Game. You'll have four picks to find various prizes or fairies revealing extra values. 
Road to Riches Bonus Game
Land the Winking Leprechaun symbol to trigger this feature. Spin the Wheel to make your way along the yellow road and win a prize. 
Road to Riches Red Bonus Game
The Red Winking Leprechaun symbol triggers this feature, which is the same as the standard Road to Riches round but with the prizes doubled. 
Pots of Gold Bonus Game
The Pot of Gold symbol triggers this round. Twelve pots will spin across the screen, and you'll win the prize shown on the pot that stops above the arrow. 
Slingo Rainbow Riches Slot on ICE36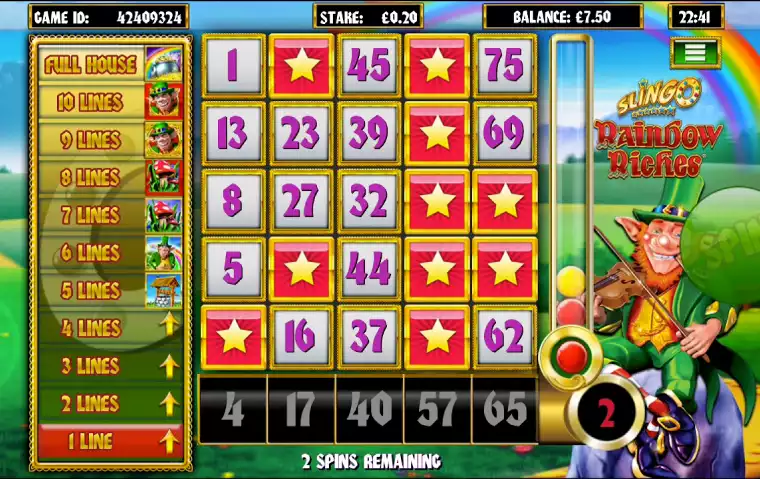 Slingo Rainbow Riches is another slick Slingo game with a great format, amazing presentation, and big payouts on offer. You can play several awesome bonus features with diverse gameplay styles, whether you're spinning the wheel in the Road to Riches feature or picking wishing wells in the Wishing Well game. If you want to try the game after reading our Slingo Rainbow Riches slot machine review, just sign in to Ice36 to get started!