Agent Jane Blonde goes by the name of Blonde. This nine line film has a handgun with it. Slots are surely entitled to make players filled with excitement. This agent is a hundred percent HOT! There are nine paylines in this game, and there are tons of thrills and action scenes that will keep you circling for a long time. You can gain 15 free spins by locating 3, 4 or 5 scatters where you will be amazed by how much your wins may double and can even triple! You will be living life on the wild side! An experience that doubles and a gamble feature excitement. Playing Agent Jane Blonde will be an easy way for you to earn whilst living the  best life!
Agent Jane Blonde Slot Details and Technical Features
Agent Jane Blonde is a slot game with nine paylines with five reels that makes up the screen of the game. The 15 free games feature will be activated by 3, 4, or 5 scatters. This game includes a feature of wild with a 2x multiplier. This slot game is associated with a military, detective and spy theme gameplay. You can add 5 coins  per payline to a maximum of 45 coins. This slot machine also features extra gameplay that will boost the excitement you are surely receiving. One of the features this game has are wild symbols, free spin trigger symbols, multiplier symbol, scatter symbol, free spins and of course to gamble.
Game Symbols 
Icons and Symbols used in the gameplay are very easy to understand and comprehend. It is available to all ages that have the chance to interact with this game. Symbols such as Wine glass, lipsticks, spy gadgets like shades with night vision, guns, and lipsticks that explode. This gameplay lives up to the inner childhood of yours that compensates the needs of your adulting life in the future. 
RTP
Agent Jane Blonde Statistic Personality has a 96% to 97% payout percentage with a 32% to 33% total hit frequency with a low volatility rate.
Agent Jane Blonde Slot Bonus Features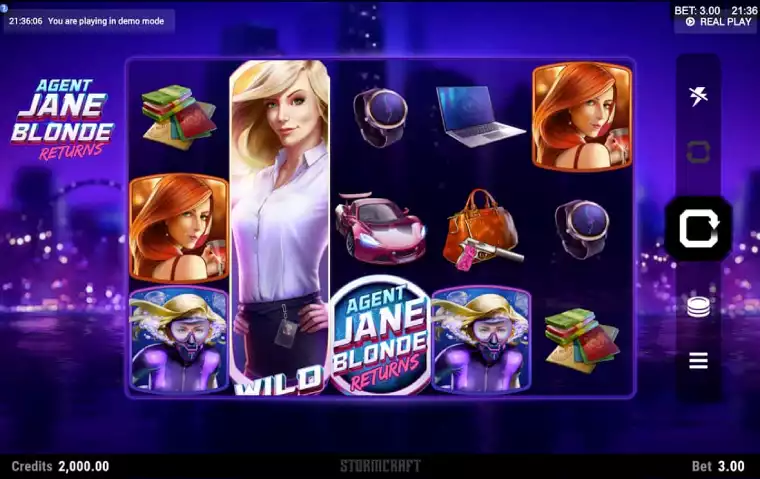 Bonus Game Feature 1
The max number allowed is 5.

The max double amount is 10 000 credits.

This game also can gamble on color or suit.
Bonus Game Feature 2
Coin Sizes differ from 0.01, 0.02, 0.05, 0.10, 0.20, 0.25, 0.50, 1.00.

Having the minimum coin size of 0.01, maximum coin size of 1.00 and a default coin size of 0.10.

The only number of coins allowed is 45 coins in 9 lines x 5 coins per line .

The maximum and default number of coins is 45. 
Bonus Game Feature 3
Agent jane Blonde Slot on ICE36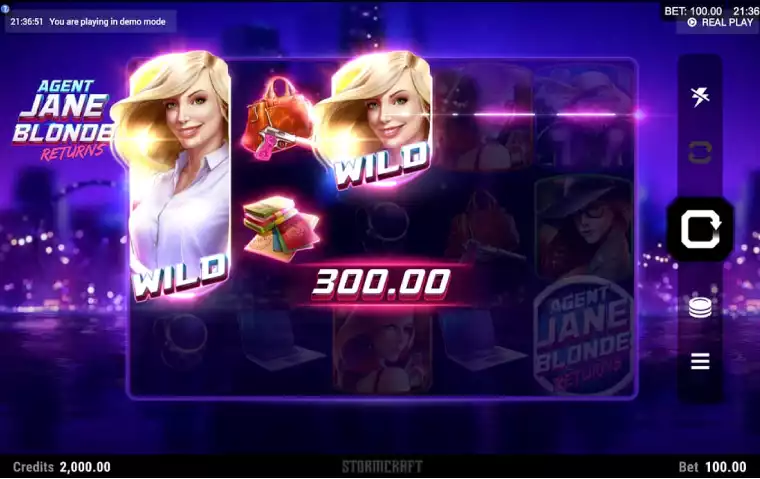 This is undoubtedly an action-packed game where players have the chance to win the basic game jackpot of up to $50,000. With the assistance of those lucky Free Spins, three times that. Using a broad betting Agent Jane Blonde will offer hours of engrossing and diverse entertainment with a price range to suit all tastes and captivating game play