From shoplifting to assaulting police officers, if you've ever wondered who the naughtiest celebrities are, it might come as a surprise to know that there are quite a few stars who have gotten in trouble with the law.
Whether it's being banned from a country, social media platforms or even the unfortunate event of being arrested – behind the glamorous red carpets there seems to be more to these VIP celebrities than meets the eye.
As a top entertainment site, our casino experts decided to spotlight the biggest celebrity culprits by highlighting some of the most memorable incidents over the last few years involving celebrities who got entangled with the law.
Taking a closer look at celebrities who have crossed the line with the law, we unveil the naughtiest stars who have been banned, blocked or are behind bars.
Who are the Naughtiest Celebs?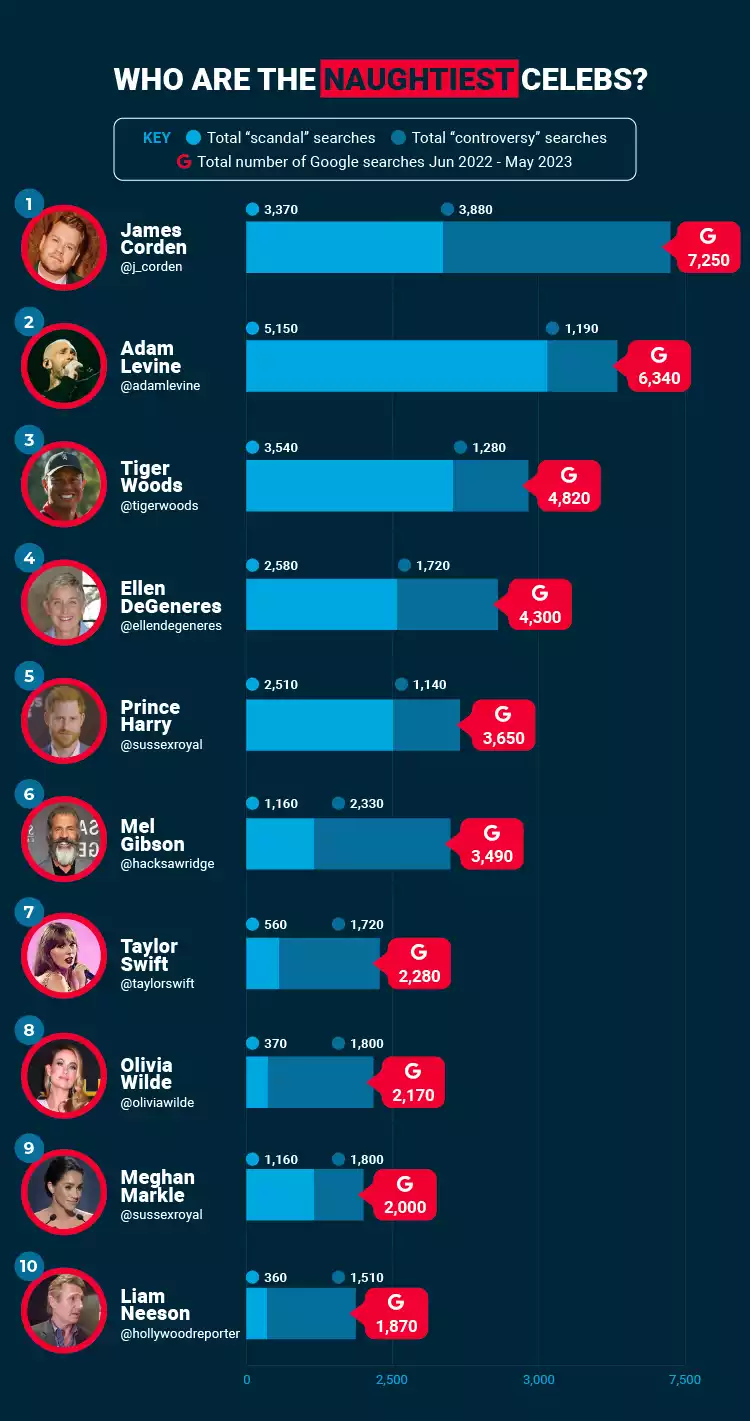 1. James Corden
Total Number of Google Searches: 7,250
James Corden tops the list as the naughtiest celeb with 7,250 Google searches related to his restaurant scandal. Despite being one of the most bizarre incidents, Corden was banned from Balthazar, a New York restaurant, after he was accused of being "the most abusive customer" by the restaurant's owner.
According to the owner's Instagram post, Corden was allegedly "extremely nasty" to his staff on at least two occasions. Though the British actor and comedian later said in an interview he had "not done anything wrong, on any level."
2. Adam Levine
Total Number of Google Searches: 6,340
With a total of 6,340 Google searches in the last year, Adam Levine takes second place as one of the naughtiest celebs. The lead vocalist of the pop rock band Maroon 5, found himself at the centre of a cheating scandal after an Instagram model came forward and claimed the pair had an affair.
3. Tiger Woods
Total Number of Google Searches: 4,820
Despite having one of the most successful careers in golf, Tiger Woods hasn't gone without his share of controversy. Back in 2009, the golf star saw his reputation change after his cheating scandal was brought to light. Woods became the centre of global news soon after. As a result of the scandal, Woods lost numerous endorsements and sponsorships. 
Since then Woods has also been in several other scandals such as wrecking his car on Thanksgiving and driving under the influence.
Celebrities who have been Banned from a Country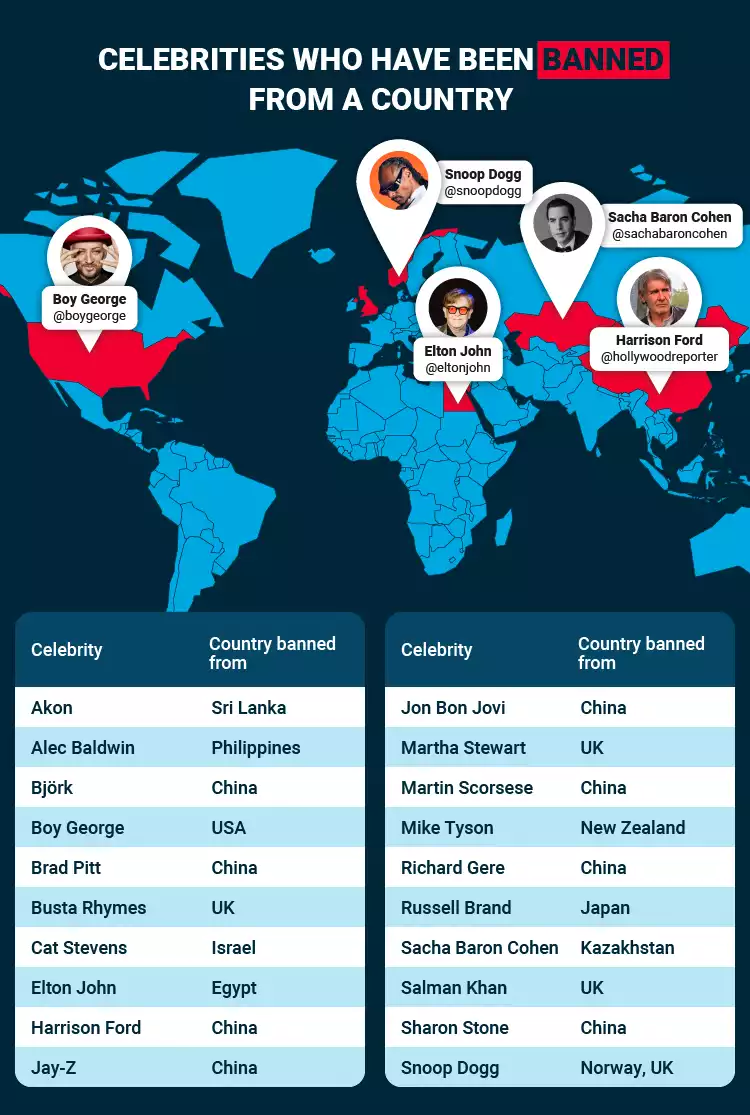 Despite all the glitz and glamour, many celebrities still find themselves in trouble with the law, in fact, some celebs have found themselves unwelcome in certain countries.
From controversies to legal issues, we shed light on the various instances where popular stars have been barred from crossing borders.
One of the most notable instances was back in 2010 when Elton John was prohibited from entering Egypt. Despite not breaking any laws, the British singer, pianist and composer who is openly homosexual saw his performance cancelled by Egypt's musicians union.
The famous American actor, Brad Pitt also faced a similar fate. Though he may not have broken any laws he found himself on China's no-entry list for life. This was largely due to his role in the movie 'Seven Years in Tibet' which was set in the 1950s and revolved around the Chinese military operations in Tibet.
The 'Flowers' singer Miley Cyrus wasn't just banned from one country but two. Due to a controversial photo that emerged online of the star mocking Asian eyes, she faced a lifetime ban from China. She was also later banned from the Dominican Republic as a result of her tendency to engage in behaviour that is said to violate the country's morals and customs.
Other notable celebrities that have found themselves on a country's no-entry list include Paris Hilton, Beyoncé and Katy Perry among many others.
Celebrities who have been Banned from Social Media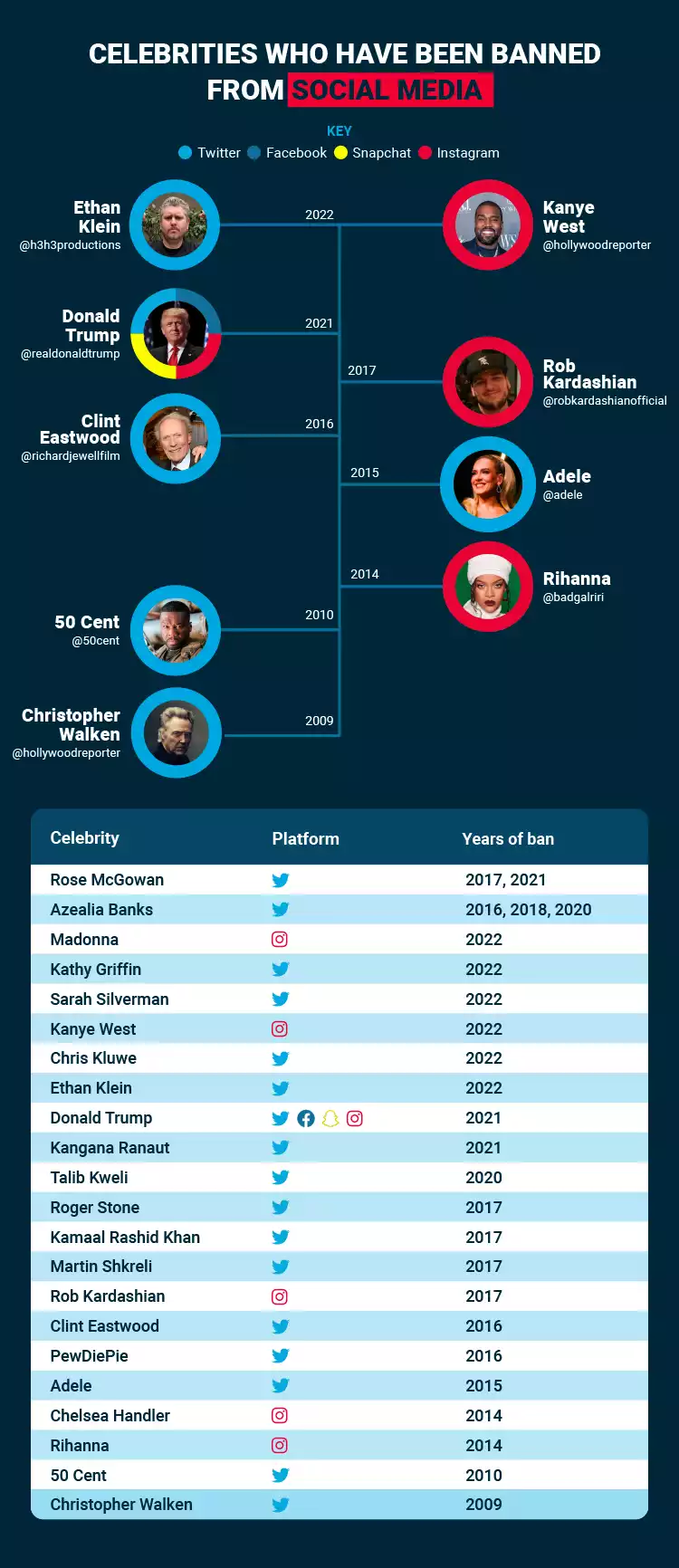 Though not as extreme as being banned from an entire country, there have been instances where celebrities have been banned from various social media platforms.
Despite his time spent in the presidential office, Donald Trump, the 45th president of the United States saw himself banned from numerous social media platforms including, Twitter, Instagram, Facebook, and Snapchat.
This came as a result of the Capitol riot in January 2021 which was spurred by Donald Trump who encouraged his supporters to fight against President Biden's election victory.
On a lighter note, the well-known British singer, Adele revealed that she is no longer allowed to post on her Twitter account after she was banned from social media by her management back in 2015. This is primarily due to her history of posting drunk tweets.
Another well-known celeb, Rihanna also faced a social media ban. The popular Barbadian singer saw her Instagram account briefly suspended after posting a racy photo on the online platform, however, not too long after her account was reactivated.
Celebrities such as Madonna, Courtney Love and Kanye West are also among some of the big names that have also faced a social media ban.
Celebrities who have been Arrested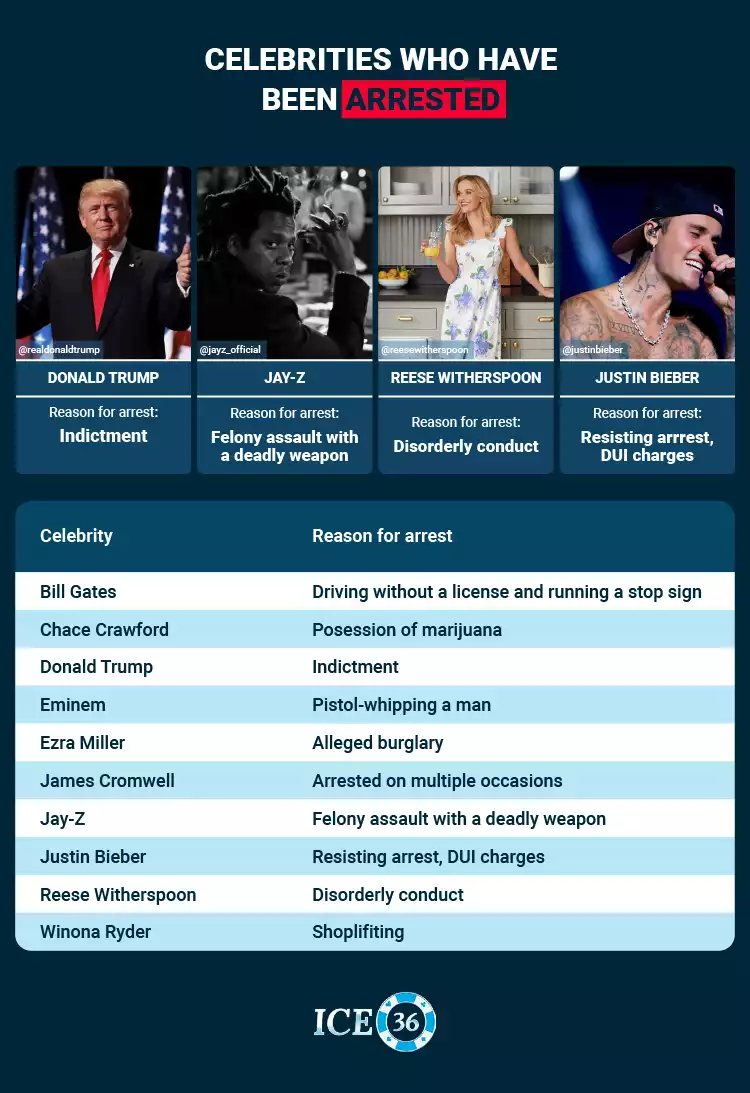 Despite their fame, celebs are not above the law. Many celebrities have run into trouble with the law over the years and have found themselves behind bars as a result.
Not only banned from various social media platforms but Donald Trump was also arrested and arraigned twice in less than three months. He found himself in federal court on 37 felony charges related to handling classified documents after his time at the White House. He pleaded not guilty to all charges.
Over a decade ago, the Grammy-winning rapper, Jay-Z was charged with a felony assault with a deadly weapon outside a Manhattan nightclub for illegally possessing a gun.
However, it seems Jay-Z is not the only rap star to have been caught in possession of a weapon. More than a decade ago, Eminem pleaded guilty to a gun charge after being arrested for pistol-whipping a man outside of a bar. 
The Grammy-winning rap superstar was facing a maximum sentence of five years in prison but was later sentenced to was sentenced to two years of probation
Popular American actress Reese Witherspoon was arrested for disorderly conduct in 2013 after disrespecting and accosting an officer during her husband's arrest for drunk driving. After the arrest, The Oscar-winning star was released from jail and apologised for her behaviour. 
Similarly, the Canadian pop star, Justin Bieber was charged with drunk driving, resisting arrest and also driving without a valid licence back in 2014.
Methodology
To determine the naughtiest celebrities, we created a seed list of the celebrities who have been involved in scandals using articles from the Independent and Cosmopolitan. 
We then used Google's Keyword Planner to search for each of the celebrities using the search terms 'scandal' and 'controversy' after their name. The number of searches was then combined to get an overall number of Google searches which was then ranked in order of most to least searched. Data for this section was collected on 04/07/2023. 
Using articles from BoredPanda and The Travel we created a seed list of who have been banned from different countries. This took into account the countries they were banned from and why. This data was collected on 13/06/2023. 
To find out which celebrities faced social media bans we sourced this information from WatchMojo and Hola! This took into consideration different factors such as the social media platform(s) each celebrity was banned from as well as the year(s) they received these bans. This data was collected on 14/06/2023. 
To gather information on the celebrities who have been arrested over the last few years, we looked at various articles from Page Six and Cosmopolitan and also noted down the reason for each celebrity's arrest. Data collection for this section was completed on 26/06/2023. 
---
Explore ICE36
ICE36 Casino is a favourite amongst those looking to play the biggest selection of
online slot games
and live tables.
Choose from over 3,000 online slots,
live roulette games
, blackjack, scratch cards, video poker and more.
Discover one of the coolest gambling experiences.
Be Cool, Be Calm, Be Collected, Be ICE36