---
On Celtic's Season
How would you assess Celtic's season so far? 
Celtic are exactly where I thought they would be at this stage of the season; top of the league and starting to find a groove under Brendan. In the Champions League, they've had spells in matches where they've played well. The only blemish is what happened in the League Cup (Celtic were defeated to Kilmarnock in the early stages). They were unlucky there – another victim of a plastic pitch.  
I think everyone associated with Celtic will be happy (with the season so far). The football in the last month has been good. I think it has taken the Celtic players a little bit of time to adjust to Brendan's methods because it's very hard for players to take everything they were doing out of their heads (under Ange) for two years, especially as those methods were so successful.  
Like every manager, Brendan wants to put his stamp on the team's playing style. For the first month and a half, Brendan did that, but it wasn't functioning as well as he would have liked. They were playing football that was a hybrid of Brendan and Ange, but he (Brendan) has started to put more of his stamp on the team over the last month.  
Brendan's football is a lot more patient, especially when they regain possession of the ball. Ange's approach was about taking the quickest way to the opponents goal. I think now there is a nice balance between the two styles.  
Have any players stood out for you and really caught the eye? 
Matt O'Riley has been outstanding. He joined from MK Dons after coming through the ranks of Fulham and, when he first joined, he looked like a good player. He's come on leaps and bounds and is impressing in the Champions League. Some of his passes have been phenomenal.  
He has the ability that all the top players have of remaining composed on the ball – he doesn't play unlucky passes. He isn't flustered in possession and isn't influenced by a crowd screaming at him. He's got that ability to take a ball, shield it and play the right pass every single time. It's a rare gift that only the real top players like your Modric's or your Iniesta's have.  
Michael Johnston has been performing well. He's had a couple of injuries but when he has played, he's been absolutely fantastic. Cameron Cater-Vickers coming back has helped the team massively too.  
Reo Hatate has been ruled out until after Christmas with a hamstring injury. How much of a blow is that to Celtic's aspirations over the coming weeks? 
It's a big loss for Celtic losing Hatate to injury. I think his replacement David Turnbull has come into the side and played well; scored a few goals. The fact is that the squad players are unknown quantities, whereas if you names a three from Hatate, O'Reilly, McGreggor and Turnbull, you know exactly what you're going to get.  
Bernardo and Holm, both young players, but I think they need to do a wee bit more to catch-up with the level the players I mentioned are at.
---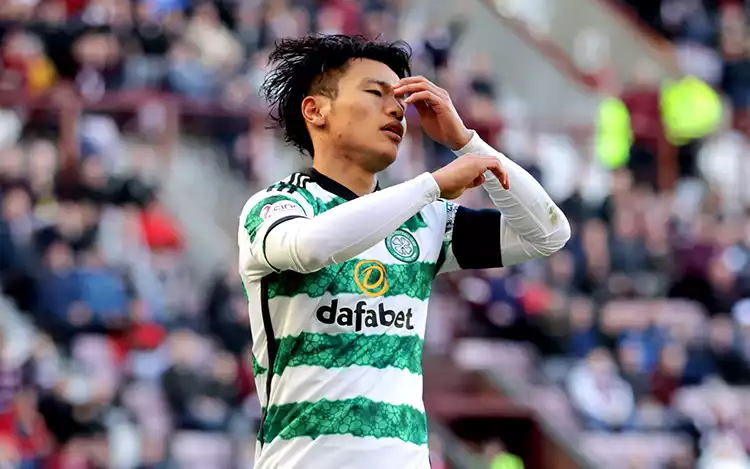 Reo Hatate a big loss
---
Odin Thiago Holm was Brendan's first signing when he returned to the club. How do you think the Norwegian has responded after seeing red against Feyenoord in the Champions League? 
I thought that red card was a character-building moment for Holm. There is only one way to react to getting sent off in an important match of football. I thought he was really unfortunate to get sent off against Feyenoord.  
The best thing for Holm is what he's learning on the training ground. Nothing improves players better than playing and working with top players on the training ground. All he needs to do is watch the likes of Hatate, O'Reilly, McGreggor and Turnbull. Watch their approach to training; their professionalism and work rate and he won't go wrong.  
Our Gavin (Strachan, Gordon's son) works with these players every day and he's told me that they can't get enough information. That's what you get with top players, that desire to want to work on their game after training and improve. These guys aren't running to their cars after training to get home to watch A Place in the Sun.  
Celtic and the Champions League
I thought Lazio looked like a really ordinary side. I thought they were OK in the midfield, but the front three were poor. Immobile, I know he's done well over the last few years and scored a lot of goals, but he didn't impress me. I wasn't worried about Lazio's attacking threat.  
Celtic's performances have been decent. If you look back at Celtic in the competition last season, they were also some good performances under Ange. They had spells of forty-five minutes to an hour where they were playing some terrific stuff – they just couldn't manage to see out a game over ninety minutes. It's been a similar story this season.  
Some of the opponents you face in the Champions League have got brilliant players. Top class players who can see a game out, the experience of how to get you over the line at the highest level in the game. I think Celtic have been missing a little bit of that in places and I also think that they missed Cameron Carter-Vickers.  
Rub of the green gone against Celtic
Celtic have been on the end of some poor decisions. I think they've been a bit unlucky, particularly in the game against Feyenoord where they had two players sent off.  
I also think with better decision-making from the players, they would probably have another two points at least.  
Do you think Brendan has any regrets about how this season's Champions League campaign has panned out? Would he change anything? 
The funny thing is, everyone always asks you if you would change anything as a manager. You will never, ever know if the results would have been any different as a manager.  
You're a man that's navigated the group stage a few times…
To get out of the Champions League group, you've got to pull off that big victory. It's like what Scotland did in the European qualifiers by beating Spain. You need that as a team because the momentum and confidence it gives you is magical.  
When I look back to my Celtic teams, they were probably a little bit more physical, and I also had some players that could produce a moment of magic to win you a game. Martin O'Neil's teams were far more physical than mine.  
We could probably get through on a bit of muscle at times. I think over the last couple of years (in the Champions League) Celtic have been looking to qualify on sheer technical ability because they haven't got the same muscle as the group I or Martin (O'Neil) had. Martin's team were a team of giants and they also had Henrick Larsson up front. On days where your technical ability may not be at its highest level, other attributes like height, strength and power can make up for that and get you through. 
---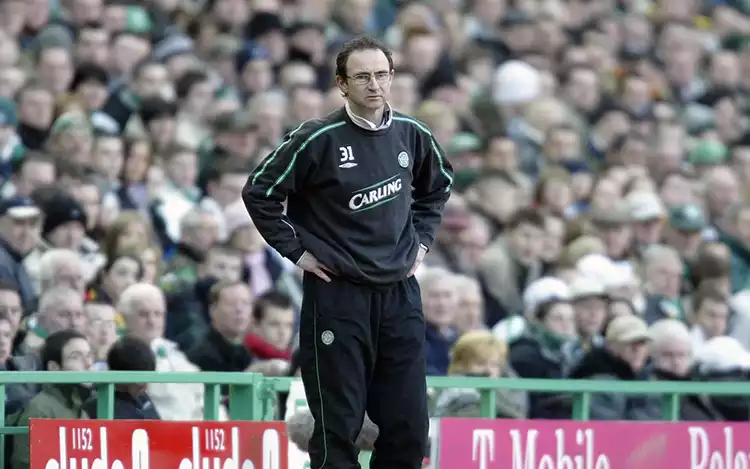 Martin O'Neil's team more physical
---
Against Atletico Madrid
The horrible thing about this game is that Atletico were beaten at the weekend in La Liga. They don't often lose two games in a row – they will want to respond.  
They are a team that are masters of the dark arts. Beelzebub! Even at the end of the Celtic match where all their players just walked off – they're the embodiment of their manager.  
What message would you send to the Celtic players ahead of this game? 
Don't rush. I don't think that they need to make any drastic changes to how they would approach this game and, sometimes, if you make too many changes as a manager in terms of tactics or personnel, players get spooked. You don't want to create doubts in the players' minds where they start to think that the manager doesn't trust them to play their normal game – I've done that before as a manager in Europe.  
You then realise, actually, if we play our game, on occasions the opponent isn't that good and that gives everyone even more confidence because you played the game on your terms. It's like standing up to a bully at school. You have to put your own mark on it – sometimes you'll have to take a couple of hits (laughs).  
---
On Celtic and Japanese football
I read an article this week that looked at the influence Shunsuke Nakamura had on football in Japan and how he paved the way for and was a big influence in many Japanese players wanting to join Celtic. You managed and played alongside some massive players – how highly did you rate Nakamura? 
I've said this before and people will always say, but you played with Brian Robson and Kenny Dalglish, players that were better allrounders than Nakamura, but just on pure technical ability and brilliance he was the best.  
He had a touch that came from heaven. He could see things and, because his first touch was so good, he had the ability to beat people with it or to then open up the pitch playing a wonderful pass because he created the angles for himself. Player's couldn't get near him – they would drop off him because he would make them look foolish.  
He scored some amazing goals too. The players absolutely loved him. The way that he trained and worked was so impressive. His English wasn't the best but that didn't stop him from building a connection with everyone that he met during his time at Celtic.  
He was so humble. Nakamura had powerful legs and I always asked him how he got so fit. He had an unbelievable core strength. He told me he did gymnastics when he was young. Guess what we're doing at Dundee with the youngsters (Gordon is the Technical Director at Dundee) gymnastics!  
It didn't matter if we were playing AC Milan, Manchester United or Livingstone at Celtic Park. As soon as the match ended, I'd say a couple of words to the players, and he would then change into his training gear and go to the gym upstairs and work on his leg weights and upper body weights. He was probably the last person to leave the stadium after a game. 
---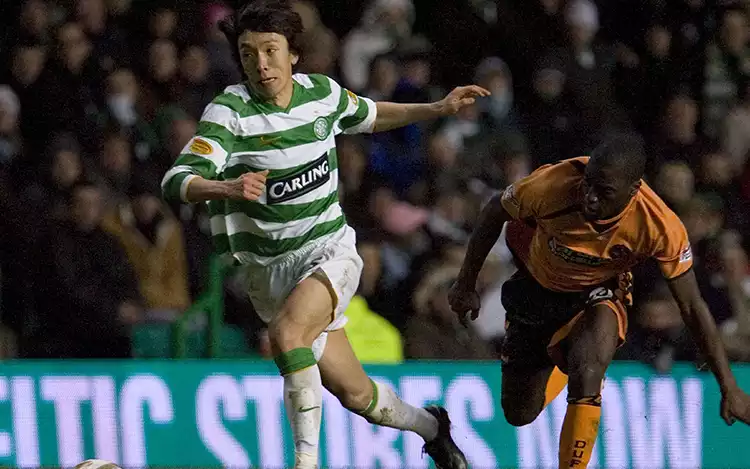 Nakamura one of Strachan's best signings
---
Was he the best player you ever signed? 
It would be unfair for me to single out a player like that. I was lucky enough to sign some smashing players during my time in management. I think on a technical level, Nakamura and Robbie Keane were two outstanding players that I signed. They both had sheer technical brilliance that was magnificent.  
The influence that Nakamura had on the rest of the group was incredible. I started coming into the training ground at eight o'clock in the morning and I'd see Aiden McGeady, Shaun Maloney, Gary Caldwell and a lot of my other players in the gym – that was all down to Shunsuke.  
Can you see Naka's influence in Celtic's current crop of Japanese players? 
Absolutely. It's that professionalism that typifies Japanese players. The Japanese players see themselves as ambassadors for their country. They are ashamed to give you anything less than their absolute best as footballers.  
---
On Philippe Clement At Rangers
Clement is a man that you know well having signed him for Coventry. Did you speak to him before he took the managers hot seat at Rangers? 
No. I haven't had Philippe's number for ages. When I look at some of my ex-players that go into management, sometimes I don't quite believe it because I didn't see that in them as players. Not with him though. With Philippe, I've followed his career in management in Belgium and he's done really well.  
I thought he was a terrific bloke when I signed him for Coventry. I actually felt really sorry for him because he suffered a bad injury when he first joined the club.  
He was a very studious individual; very anxious to learn. He wanted so much information as a player and he's taken that trait into his coaching. I got on really well with him. One night me and Lesley (Gordon's wife) babysat for him – he needed to take his wife out and he didn't have a sitter.  
He's had a great career in management so far. If I were to speak with him, it would be to tell him about what sights to visit and things to see in Scotland on his day off. I can't help him with Rangers. There are certain things that you can and can't do… I couldn't do that (help him).  
Single-minded Clement
He's completely single-minded as a manager from what I've heard. He's a little bit like Ange in terms of his commitment to playing football his way – you have to be that way as a manager. People often criticise managers for being stubborn, but I think that is a trait that you need if you want to be successful. You can't listen to everybody every now and then.  
Philippe has gone in there and done it his way. I like that. If it does go wrong, then he only has himself to blame.  
---
On Manchester United
Manchester United's problems go beyond ten Hag
It doesn't seem to matter who the club appoints as the manager of Manchester United, the players seem to decide that they will not change. There is an attitude among the Manchester United players where they think 'this is who I am, this is what I do and as an individual, I play this way'.  
These players think they that they are at Manchester United, the pinnacle that all footballers aspire to reach, and they don't need to change. They think that eventually things will work out and they will be able to play the way they want to.  
That isn't what Manchester United need. That attitude is all wrong. Just before United scored against Fulham, I saw two so-called footballers shirk duels. I know I'm sounding a bit like Roy Keane here, but I was watching that game and thinking to myself 'there are players wearing the United shirt that don't look committed enough'. When the ball is there to be won, I expect a player to put his foot in and try and come away with the ball or to take the challenge. I don't want to see players get hurt by the way, these are the basics of being a footballer. This was five minutes before the end and I'm shaking my head. There's a game at stake at here. Is that the level of effort that you're prepared to put in for this great club? You're not prepared to put in the effort for your manager or your team mates? That is beyond me. That's got nothing to do with tactics the Glazers or anyone else.  
Blaming the Glazers for performances on the pitch is an absolute nonsense.
Blaming the Glazers for what is happening on the pitch, the lack of commitment from some players, is an absolute nonsense. Not one of those players would be able to recognise the Glazers if they walked into the Manchester United dressing room. Do you think that any of these players said to their agents before they signed for £200,000 a week, "can we meet the owners please?" It's nonsense. It's nonsense to think that they (the Glazers) have any impact on the levels of performance these Manchester United players are putting in.  
Erik ten Hag challenges and facing criticism  
There's no way that Erik ten Hag can say in his press conference "my team doesn't have fighting spirit". There is no way a manager could say that publicly. There was a young manager at St. Johnstone who said a couple of players won't play for me again. The next day he was gone. You can't criticise players like that in public.  
Managers have to tell white lies every now and again because it suits the group. As a manager, you have to take the hit. You have to take the criticism. Especially if you've signed so many of the players – these are mainly his players now. The United board have bent over backwards to give him the players that he wanted and what are the club showing for it? Absolutely nothing. Manchester United's performances this season haven't been beyond average.
---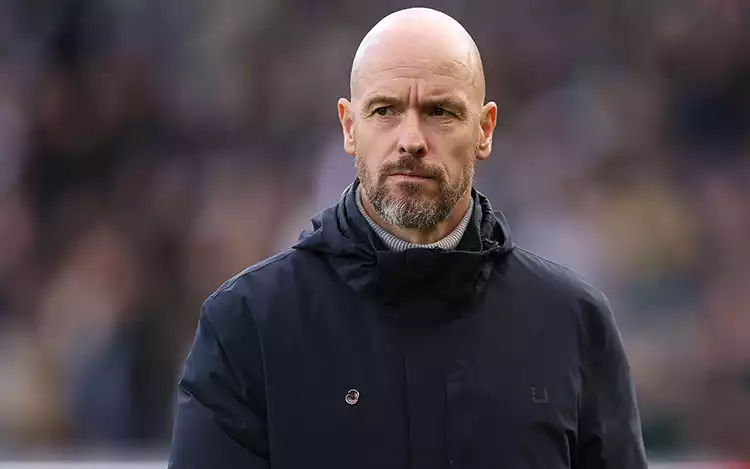 ten Hag under pressure
---
There's no such thing as a manager losing the dressing room
I've been in dressing rooms where the manager falls out with a player, but the famous stereotype about managers losing the dressing room just isn't true from my experience. That's a complete myth. Sometimes the dressing room can lose you as a manager, it works the other way.  
Sometimes you can look at a group of players as a manager and think to yourself, 'do I really want to be working with this lot'.  
Sir Alex Ferguson would lose the dressing room every single Saturday! There would be three or four of us that wanted to kill him! That's not the point. The point is that you win and the group fights for each other. The best teams have that spirit and camaraderie; you have to be in it together. As players, we would get on with any rollicking we took off Sir Alex because we knew that someone else would be getting it the next week. You get on with it and accept it because of the spirit within the group and the respect for the manager.  
I've never ever seen a dressing room where the manager has lost it. I've seen players be affected by the abuse that a manager has received for poor performances.  
Rotten apples in a squad
I've seen it as a manager on a couple of times – that definitely exists (rotten apples in a dressing room). When there are bad characters in the dressing room, the onus is on the manager to sort it out. It's the manager's job to get rid of those players, but it's not as easy to do that anymore.  
Players would be banished to the reserves, and it would have a real impact on them financially because they wouldn't receive appearance fees or bonuses, but the basic weekly wages are so big these days that missing out on a bonus or an appearance doesn't matter anymore.  
This group of players look like they are content with just playing for Manchester United. It's like they see themselves at the club and think 'that's it, I can relax now'.  
Manchester United need to recruit players that want to keep learning, that want to take the next step. I'm sure there are some great characters in there. There has to be. Sometimes the responsibility needs to be resolved by the players themselves, they need to take a look at their own performances and effort. I don't know if we live in a world like that anymore. There is always somebody to blame and I don't know if any of these players want to be honest enough to look at themselves afterwards and take responsibility.  
I don't like it when players post messages after a defeat to the fans that say they know how they feel. No, you don't! You're earning £200,000 a week, while the fans are working double shifts and travelling four, five, six hours around the country to watch them play. Sometimes I think players make these comments just to feel loved and to get away with poor performances.  
On Bruno Fernandes
As a captain, you have to try to be the best player. You have to be the best team mate and you have to be the best in training. You also have to be the best behaved. Bruno Fernandes needs to ask himself if he is doing those things and setting those standards as the captain of Manchester United.   
He needs to be a great example to everyone at the football club every time he steps onto the pitch. He needs to be an example to everyone with how he conducts his life away from the pitch.  
When a captain loses a ball, he needs to give everything to get it back. He needs to work. Giving everything isn't stepping in and deliberately standing on someone's toes or screaming at referees, it's putting in the effort. You don't need to be a captain that shouts and screams, it's all about setting the right example and we've seen one or two things while Bruno Fernandes has worn the armband that don't show a great example. You could go back and look at other United captains and ask yourself 'was Roy Keane a great captain?' Of course he was. Was it a great example when he nearly broke Halaand in two? Of course, it wasn't. 
To be the captain of Manchester United you have to go beyond what is good for you as an individual. You have to get the best out of every single team mate that is on the pitch, the training ground and the dressing room. That's what a captain does. If you said to me that Bruno Fernandes is doing all that and there hasn't been one time where he's lost the ball and thrown his arms around, or screamed at a referee when everyone knows it's not the referee's fault… does a great captain feign injury? Really? What are you doing?  
Technically, he's a wonderful player. Can he win you a game? Yeah, he did that against Fulham and that's wonderful. The problem with Manchester United is, if Bruno doesn't captain the team, then who does? There is no one in that team that is playing regularly that could be a captain because it looks like there aren't many leaders at Old Trafford.  
What do you think will happen at Manchester United from now until Christmas?
Can I see them being as good a unit as Liverpool, Man City, Arsenal or Tottenham? The simple answer is no. They've got individuals that can do stuff every now and again, which helps them. I can see them running behind those teams.  
Manchester United don't close teams down or press with the same intensity of the top teams.  
---
On Ange Postecoglou And Tottenham
Everything that you said about Ange Postecoglou before a ball was kicked this season has proven to be true. Do you think some of Ange's critics and critics of Scottish football need to eat some humble pie? 
Listen, I spoke to Ange when all of the silly stories and comments were being made in the English media after he had been appointed at Tottenham. We spoke about life and where he wanted to go as a manager. He sets his targets for the here and now; what I am going to achieve today. 
I don't think Ange would have cared a jot about any of the comments that were said about him or articles that were written about him – he couldn't have cared less. Nobody likes being criticised, but we discussed it and how to look beyond it because all managers face criticism.  
When you're doing as well as Ange has done with Tottenham, you really don't care about any of that. You're living in the moment. You're creating a winning culture and mentality in a football club. You can see how positively the players and fans have responded to you, why would you then look back and think of what was incorrectly said at the beginning of the summer? Why stop enjoying the moment to think about someone that has never met you and in all likeliness, never seen your team play football. You ignore it and live in the enjoyment of the moment that you're currently in. He's creating something for his players and fans of his club to enjoy.  
He's transformed the style of play and the environment around Tottenham by being brave
I thought it would take him a bit longer than it has done for him to be having such a monumental impact on the club, both on and off the pitch.  
I didn't know the group of players he was working with (before I predicted that it would take him a bit longer to have a huge impact on the club). If I knew the group of players were as open-minded and committed to getting better as players as they seem, then I would have been more confident in him making an instant impact.  
It looks like he has a group of players who are completely engaged with everything that he is doing.  
He's changed everything and it takes a brave man to do that at a football club. He knows these methods have worked in Australia, Japan and in Scotland. If the players are open-minded, then this approach will work again. It is working at the moment.  
It's brave to do that. He's added something to the Premier League. 
---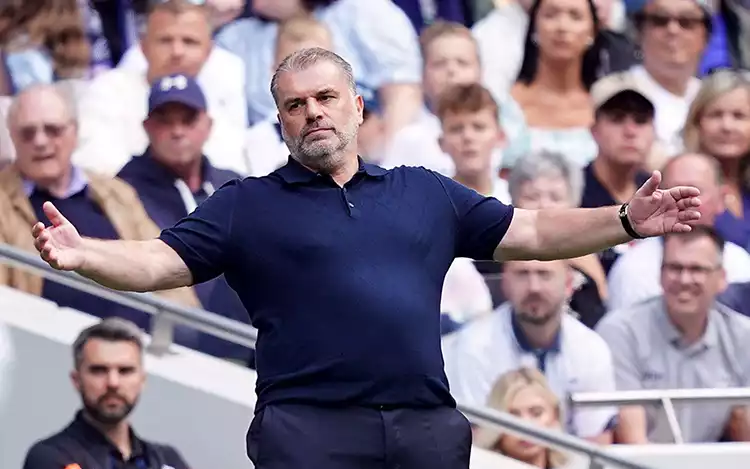 Postecoglou 'the new klopp'
---
Ange is the new Klopp
Ange Postecoglou is the new Klopp in terms of his popularity. When Klopp first came along, we enjoyed it because it was something new and fresh. Ange has picked up the baton since then, which is great. I'm absolutely delighted for him. In a short space of time, he has charmed everyone.  
He's given his players the freedom to attack – when was the last time you saw Ben Davies getting that far up the pitch and scoring a goal? I think the most important piece of the Tottenham jigsaw are James Maddison and Yves Bissouma.  
They are two players that can eliminate people. They can beat people, they don't go sideways or backwards, they go forwards.  
Bissouma has been excellent for Tottenham this season. He didn't play much last season and he's beating people for fun. Maddison and Bissouma can find a way through a high and middle block. He's given those two players the opportunity to express themselves while playing key roles for his team.  
Tottenham will be contenders 
I think that Tottenham will be contenders for the Premier League title this season. My biggest concern would be keeping players fit. I don't think they could afford to lose Maddison and Bissouma – that would give them big problems. I don't know if they have players in the squad that could step in and do what they've been doing so far this season if they were to lose them. 
---
Gary O'Neil at Wolves
Gary was someone that played under you at Middlesborough. As a player, did he show the signs or the potential that he would be a top manager in the future. 
Gary O'Neil was a very deep thinker. When I worked with him at Middlesborough, I wasn't at my best as a manager for a variety of reasons. At times I thought he was trying to take too much information on board. Everything that you asked him to do, he wanted to understand why you were asking him to do it. It wasn't in a bad way – he didn't challenge the decisions – he just wanted to know. Footballers brains are like computers, there's only a certain amount of memory to store information and I'd think sometimes he wanted to know too much.  
He was a great professional. He always listened to instructions. He was a very conscientious man.  
I think he's stabilised Wolves. They've been a bit up and down over the last few years and he has brought a calmness to the club. I also think he has been on the end of some pretty rotten refereeing decisions. 
---
On Leeds
Leeds picked up a brilliant result away at Leicester on Friday night. How much confidence do you think that victory will give Leeds belief that they can immediately return to the Premier League? 
I was delighted with the Leeds result against Leicester. Daniel Farke is a manager that knows the Championship inside and out – he knows how to get teams promoted. I think that Farke will take Leeds back to the Premier League, if not this year, then certainly next.  
They got off to a stumbling start. I think the reason for that is because the players still had a hangover from how the Premier League season finished for them – they limped out of the league and were really poor in the run-in. That takes time to get over. It's not easy to get over such poor performances – it can be hard to shake off.  
Glen Kamara and young Archie Gray have given the team some freshness. The players that weren't really involved with relegation have given them a boost.  
It's great to see Leeds doing well. There's no doubt about it, when I watch the Premier League games at the weekends, there is something missing with the omission of Leeds. The quicker Leeds get into it, the better the Premier League will be for it. 
---
 On Cantona's Singing Career
Your old team mate Eric Cantona has released an LP and has been gigging. Did he ever used to sing in the changing room? 
Cantona has been a football player, an actor, philosopher. The world is much more colourful place because or Eric Cantona, that's for sure.  
It's great that Eric's released an album. In fact, I played with quite a few singers come to think of it. Vinnie Jones, Chris Kamara and now Cantona. All talented singers in their own right (laughs).  
He didn't speak in the dressing room never mind singing! I've not heard his album and I don't think I'll be searching for it either (laughs).   
---
Explore ICE36
ICE36 Casino is a favourite amongst those looking to play the biggest selection of
online slot games
and live tables.
Choose from over 3,000 online slots,
live roulette games
, blackjack, scratch cards, video poker and more.
Discover one of the coolest gambling experiences.
Be Cool, Be Calm, Be Collected, Be ICE36